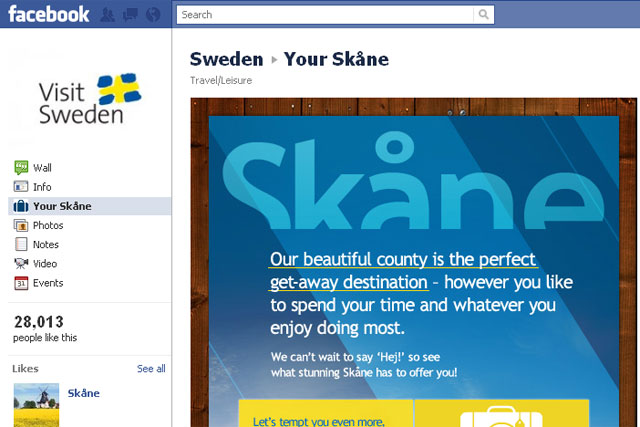 Both apps have been developed by Glue Isobar.
The travel guide app has been produced in partnership with easyJet and holiday firm Discover The World to promote Skåne, in the south of the country.
Holidaymakers can create their own travel guide to download, print or send to a smartphone.
Visit Sweden is introducing the app with a competition that will run for 12 weeks. Entrants can win prizes including holiday packages to Skåne and pairs of Nudie jeans.
Visit Sweden's second app, called Stock or Göt, will come out soon and has been produced in partnership with Scandinavian Airlines.
It will display photographs of the Swedish capital Stockholm and the city of Göthenburg. Users will be invited to select their favourite pictures, which the app then analyses to pick the city best suited for them to visit.
The app also uses intelligent tagging to scan a variety of hotels, restaurants and activities, to create individualised itineraries.
Stock or Göt's competition offers users the chance to win Scandinavian Airlines flights, accommodation in luxury hotels and passes for free entry to hundreds of tourist attractions in Sweden.