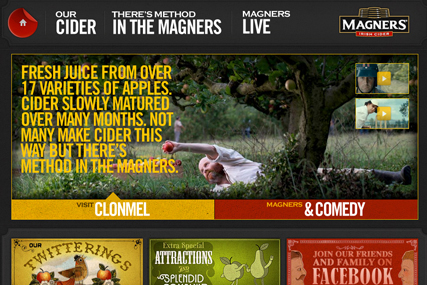 The agency has launched a new digital campaign, which includes social media elements and a complete revamp of the brand's UK website, to help support Magners' new "There's method in the Magners" positioning.
The re-launched site will host a range of features, including a history of the brand and details on how the cider is made.
Users can also find out about upcoming sampling nights, and explore a section dedicated to Magners' sponsorship of the Glasgow Comedy Festival.
The digital campaign will support the series of TV spots, created by Magners' above-the-line agency Red Brick Road, which broke last weekend.
The TV ads introduce the new brand positioning, and portray a fantasy world that enables the makers of Magners to produce a great tasting cider.
Richard Barnes, the marketing manager of Magners, said: "Glue's work aims to amplify our above-the-line work and set Magners apart from the competition as a unique, great tasting premium cider."