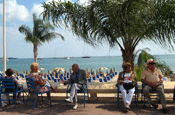 The agency has received nominations for 'Emergency Committee' for Virgin Trains, 'Loop', 'Plinth' and 'Smile' for Mini, 'Male' for Camper and 'Drag', 'Harold', 'Plant', 'Shake' and 'Struggle' for Virgin Money.

Following them with seven is Lean Mean Fighting Machine which has shortlisted entries for Emirates, with two for 'Non Stop Fernando', and singles for 'UK' and 'Mumbai' while it also has 'Balloons', 'Chicken' and 'Spoons' for Virgin Games.

However, like last year, it's the Americans who are leading the way in the overall number of shortlisted entries with 65 nominations. Sweden Brazil and the UK have also fared well.

The only UK agency with three nominations is The Viral Factory with 'Project Iceland' for Levis and 'How we met' and 'Millimetres Matter' for Samsung.

Following this are a number of agencies, including three above-the-line shops, which all have two shortlisted entries.

These are CHI & Partners with 'Big Ask March' for Friends of the Earth And 'Dangerous Ground' for No More Landmines, Bartle Bogle Hegarty with 'Jazz Club' for Perfetti Van Melle and 'Fuck Off' for Barnado's and Ogilvy Advertising with 'Push' and 'Capp-wow-cino' for BP Ultimate.

Other agencies on two nominations include Poke and Dare which have entries for 'British in Bed' for Johnson & Johnson and 'Orange unlimited' for Orange and 'Colour Like no Other' and 'Vaio' for Sony, respectively.

Agencies with one nomination each include GT, Euro RSCG 4D, BLOC London, Saint, Archibald Ingall Stretton, SYZYGY London, Agency Republic, RMG, Grand Union, Beattie McGuinness Bungay, The Rumpus Room, Saatchi & Saatchi, WCRS and Nitro.