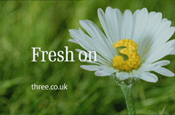 The digital agency will be promoted from lead digital agency to lead creative agency in January.

The decision to move the account out of Euro RSCG was made by Alan Doyle, 3's director of integrated communications, and Marc Allera, 3's recently appointed sales and marketing director, without a pitch.

It is understood that 3 wants to have a greater digital focus to its advertising, rather than using it simply to support the above-the-line activity.

Glue London is expected to outsource the above-the-line production work, but will lead on all creative and strategic thinking for the brand.

As part of the restructure of 3's advertising arrangements, it is thought that the direct marketing incumbent, Claydon Heeley, could be handed a larger piece of the business.

The mobile operator handed the advertising account to Euro RSCG in May 2007 following a pitch against glue London and Hurrell and Dawson. Glue was later awarded the digital business.

John Penberthy-Smith, the former marketing director of 3 UK, who led last year's review, left the company in May this year following a restructure of the sales and marketing departments.

The 3 account was the first big UK win for the Euro RSCG chief executive, Mark Cadman, and the chief strategy officer, Russ Lidstone, and came a year after they had joined the agency.

Euro RSCG took the business from WCRS, which handled 3's launch in 2003 and produced high-profile and award-winning campaigns for the brand. Mindshare continues to handle 3's media planning and buying.