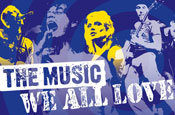 The Smooth Radio owner is known to be looking at Virgin, while one of its potential chief rivals for the asset, UTV Radio, is known to have incurred millions of pounds of debt following its acquisition of Irish radio outfit Communicorp in December.
One senior radio executive, who ruled out any interest from GMG's other rivals or private equity players, said: "UTV won't be able to come up with any money and certainly wouldn't be permitted to spend any more on radio assets.
"GMG can afford Virgin and UTV would be mad to compete with it."
Any company that bought SMG-owned Virgin would be required to comply with conditions laid down by Richard Branson over the use of the brand name, but experts believe the relative size of Virgin Radio, which is still only available in London on an FM licence, will not hinder a name change.
"GMG will probably dump the Virgin name and start with something else," said one source. "If done properly, a name change can be a success - it worked when Melody became Magic."
GMG declined to comment when contacted by Media Week. SMG failed to return calls at the time of going to press.
GMG is focused on strengthening its long-term brands, Rock and Real, as well as new brand Smooth and Century, which it bought from GCap last year and is expected to rebrand imminently.
SMG last week confirmed that the sale of the station was back on after renewed interest from bidders including GMG and Global Radio.
However, Global Radio is not thought to be a serious contender for the station and is expected instead to have a second go at buying GCap Media, which rejected a takeover bid just before Christmas.
In 2007, SMG announced it wanted to offload Virgin Radio, along with its cinema sales house Pearl & Dean, and focus instead on its television assets.
Its plans to float the station were called off after the departure of chief executive Paul Jackson, who joined GCap as Capital 95.8 managing director in August.
Meanwhile, an attempt at a direct sale also fell through after bids came in considerably lower than the £80m asking price.