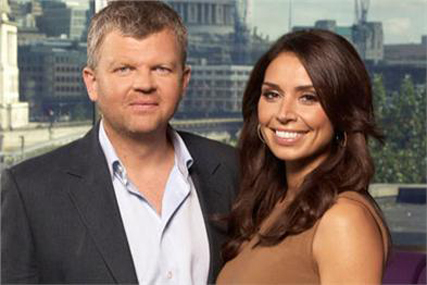 'Daybreak', presented by Christine Bleakley and Adrian Chiles, who controversially moved to ITV from BBC One's 'The One Show' earlier this year, attracted an average audience of 1.01 million between 6am and 8.30am, a 24.9% share of the audience.
BBC One's round-up of news and current affairs, simply called 'Breakfast', was watched by an average of 1.41 million viewers between 6am and 9.15am, a 32.4% share of the available audience.
The peak audience for 'Daybreak' was at 7.35am with 1.5 million viewers, a 27.7% share of the TV-watching audience.
The average audience for 'Daybreak' yesterday was 23.1% higher than GMTV's average of 824,400 viewers across the working days of last week, Tuesday 30 August to Friday 3 September.
For the week beginning 7 September 2009, 'GMTV' averaged 660,000 viewers between 6am and 8.30pm, and a 17.9% share of the TV-watching audience.
ITV took full control of GMTV, which was a separate business with its own sales house, in November last year, when it bought Disney's 25% stake in the broadcaster for £22.25m. The rebrand of 'Daybreak' is part of the integration of the businesses.
The opening episode of ITV1's new drama 'Bouquet of Barbed Wire', a remake of the 1970s series, won the crucial 9pm to 10pm slot with an average of 5.2 million viewers, a 20.8% share of the TV-watching audience.