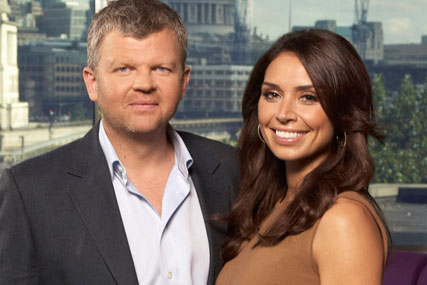 Over the weekend an outdoor campaign, designed by Bartle Bogle Hegarty, used digital formats to count down to the show, which is a replacement for the long running morning show 'GMTV'.
A simple launch message will be used today until 6pm in activity planned by WPP agencies Mindshare and Kinetic. 'Daybreak' producers will decide tactical daypart messages previewing the show's content for the following day.
Lucy Scott, team manager at BBH commented: "The campaign is designed to announce the exciting new breakfast format and build interest in the show's content. We have been able to harness the flexibility of digital outdoor media and sync it with all online communications instantly at the push of a button."
Daybreak received a mixed reaction on Twitter this morning. Chiles' replacement on 'The One Show' Jason Manford tweeted: "I think Adrian & Christine are doing great, the most watchable pair on TV. After Holly Willoughby."
However, a user called @simonbrett joked: "I know the BBC's looking for cost cuts but selling old 'One Show' recordings to ITV to be flipped and repackaged as #Daybreak is a bit much."
The outdoor campaign is facilitated by production agency Grand Visual's service platform OpenLoop, which allows advertisers to serve ads to multiple media owners.