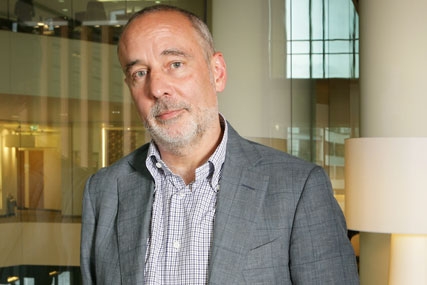 "There is no silver bullet," warned the 52-year-old managing director who is, like the rest of the industry, following News International's paywall experiment with great interest.
But, he believes, unlike this week's reports that claimed The Times retained two-thirds of its online traffic, actual readership is likely to settle at a fraction of that.

Brooks said: "We did our own calculations around paywalls in the early part of last year and the indications we've had is that the assumptions we put into our model are actually similar to the assumptions that they're working on."
Prior to erecting the paywall, John Witherow, editor of The Times, appeared to be under no illusions when he admitted it could cost the brand more than 90% of its audience. But Brooks said "to keep 10% would be astronomically brilliant".
He explained: "If you think about click-through rates and you think about conversion rates on click-through rates, and that's what marketing people are used to dealing with, and then you multiply that by an order of magnitude for the fact that you've got a strong brand like The Times. 10% would be breathtakingly successful."
GNM's leader has tried to avoid being drawn on the actual number he believes his rival is looking at, but goes on to use the example of evaluating the loss of 95% of readership.
Brooks suggested the Murdochs have a more ambitious strategy in mind than generating online subscriptions and pointed to James Murdoch's MacTaggart Lecture last summer, in which he stated his belief that there's only one media market now.
He also mentioned News Corp's move to buy the 61% of BSkyB it does not currently own as soon as David Cameron came to power.
He said: "You can see a picture that they may be painting of the future where they have a sort of 'walled garden' of Sky / News [Corp] wholly-owned content offerings, including their newspapers."
The Guardian remains open to paywalls
For his part, Brooks remains decidedly pragmatic about the possibilities around paywalls.
Unlike The Guardian's editor-in-chief Alan Rusbridger, there's no talk of Rupert Murdoch "sleep walking to oblivion" or philosophical musings about the "democratisation of the web". For Brooks, the equation just doesn't currently fit with GNM's goal.
He said: "We looked at the difference it will make to our net revenues, and we looked at the loss of over 90% of our audience for the gain of a very small percentage of additional revenue.
"For News [International], journalism is a means to an end, and the end is profit. For us it's different, journalism is our end.
"It's not a means to anything… and you would need very powerful journalism arguments for us to close our journalism off from 95% of people who are accessing it currently."
Interestingly, this altruism does not appear to extend to GNM's other outlets, including the newspaper itself or its iPhone app, which achieved more than 100,000 downloads in its first 10 weeks and, at a cost of £2.39, raked in more than £240,000.
Brooks reasoned it is because of the open nature of the web: "You have to think about the nature of the platform that you're trading on. So if you think about newspapers, typically, it is a closed platform.
"That is one reason why we felt confident about charging for our iPhone app, the habit of paying for things through iTunes is an established habit."
But those who believe that the Guardian is somehow a devout champion of an open, free internet should take note. If expectations were to shift, GNM's leader has no qualms in changing direction.
Noting Google's trialling of "newspass", a system that promises micro-payments as well as long-term subscriptions through a friction-free paywall, Brooks admitted: "If the ecology of the system changes, we'll change our behaviour. We're not King Canutes here.
"We just believe at the moment, people don't expect to pay for things on the web, by and large won't pay for things on the web, and we're not a big enough animal to change people's behaviour."
Read the full interview with GNM's Tim Brooks on MediaWeek.co.uk