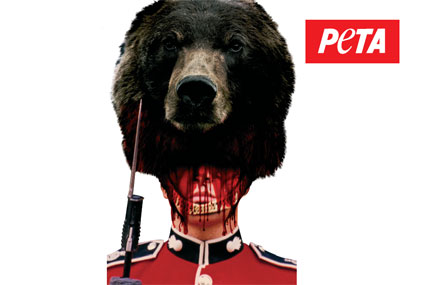 Peta wanted the ad to highlight the use of real bear fur in the iconic caps of the Queen's Guards. The campaign is was the first part of Peta's 2010 push to get the Ministry of Defence to switch from Canadian black-bear pelts to faux fur.
Peta rejected the bus service operator's offer to consider the ad if it was "toned down" and said in a statement that Peta wants "people travelling along bus routes in central London to know the truth - that it can take the hide of one entire bear to make just one Queen's Guard's cap".
The campaign was booked through outdoor media owner Transport Media which sells advertising space for Go Ahead.
John Kehoe, general manager of Transport Media, is currently looking for alternative bus fleets. He said: "The ads will more than likely end up on a different bus network."
Peta's campaign to end the killing of bears for the Queen's Guards' caps has support from celebrities including Ricky Gervais, Pamela Anderson, Sadie Frost, Sir Roger Moore, Jilly Cooper, Twiggy and Amanda Holden.
Transport Media yesterday left trade body the Outdoor Advertising Association in opposition to the controversial 'Career Women Make Bad Mothers Campaign'.
Transport Media, in a statement, said it had reached the decision after their clients, staff and family members were "outraged by the overwhelming controversial and negative remarks regarding how career women make bad mothers".