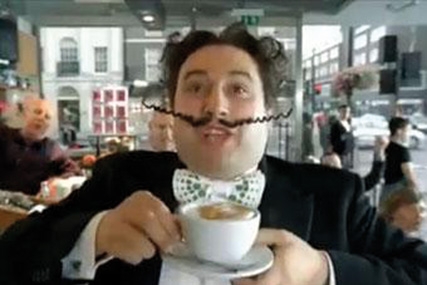 Go Compare, which launched a new campaign on 18 August, is the latest price comparison site to attempt to imitate the success achieved by comparethemarket.com.
Go Compare's ad introduces us to the new face of the brand: an Italian tenor with an impressive moustache called "Gio Compario".

The ad opens with two men discussing car insurance in a coffee shop. Gio Compario then appears and, breaking into operatic verse, implores the men to try Go Compare.
The scores for Go Compare on BrandIndex suggest the ad has split public opinion. When the ad first aired on 18 August, the brand's buzz score was +4, but by 31 August, it had dropped to +2.
The general impression score for the brand followed a similar trend, dropping four points to hit zero on 31 August.
However, by contrast, the brand's corporate scores rose two points to peak at zero on 31 August, while its value for money rating rose one point to reach +5 by the end of the month.
The low level of movement in the scores suggests would-be consumers of the brand are divided in their opinions of the ad.
This analysis is given weight by the improvement in the brand's mindshare - the percentage of respondents who have heard anything about the brand in the past two weeks, either positive or negative - which doubled from 4% to 8% following the launch of the campaign.
The net buzz scores for the brand have risen by one point, demonstrating that marginally more respondents responded positively to the ad.
Despite the small increases in its scores, Go Compare should be satisfied. After all, in order to increase consideration, the consumer needs to know about the brand first, and Go Compare has at least managed to increase awareness.
Further good news for the brand is the slight increase in its value scores. With price comparison firms flooding the market as they try to replicate the success of Aleksandr the meerkat, even marginal lifts will give brands a competitive advantage.