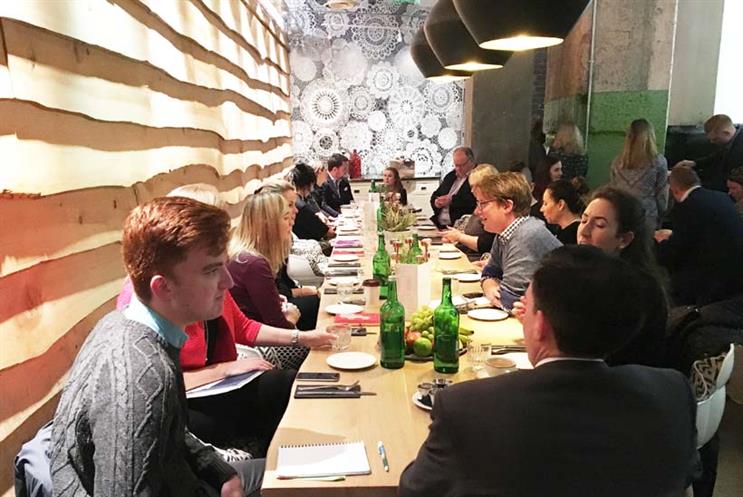 The recruitment market is as nebulous as it has ever been as the different ways to build an employer brand increase exponentially, but every challenge presents opportunity.
Employer branding is of paramount importance when hiring marketing and creative professionals due to the industry being so reliant on talent. This has led to a candidate-driven market where competition for the top talent is fierce.
At a breakfast meeting held by recruitment firm The Recruitment Events Co and Campaign Jobs, recruitment managers from organisations including the BBC, Arcadia, L'Oreal, IBM, the Civil Service, Pernod Ricard, Dentsu Aegis, and Havas, laid bare the challenges facing them.
High on the agenda was finding ways of attracting talent that cut through the competition, developing a strong brand and message, and raising awareness.
Be creative
The importance of a strong brand in hiring talent is underlined by Campaign research that found 96% of over 200 marketing and creative industry jobseekers said they took an employer's brand into consideration when applying for jobs.
Gone are the days when slapping a job description up on a jobs board would be enough to find the perfect candidate.
The explosion of content and social media has meant that employers are being ever more creative in how they are targeting prospective employees.
Make the candidate journey easier
Laurie Higdon, recruitment manager at Dentsu Aegis, believes that now "you have to go the extra mile to get your roles in front of candidates".
"It is all about making the candidate journey a lot easier," says Higdon. "In a candidate-driven market if you are not making it easy I'm pretty sure your competitors will be."
Higdon highlighted how Dentsu Aegis rethought its recruitment strategy when seeking to build a talent pool of flexible workers to hire for short periods at times when the permanent agency staff were stretched with pitches.
Harness the power of content
An advert on a flexible work website had yielded no results, and as a result Higdon concluded the type of worker they were targeting – people who would consider flexible work such as new mums or carers – would not be scouring the jobs boards.
Higdon had a hunch that they would still be keeping up to date with industry news and as a result an article on Campaign would reach the audience she was targeting.
The result was a native advertising article featuring an interview with Liz Jones, chief executive of B2B at Dentsu Aegis, about the company's flexible working initiative, which included a call to action to apply to the scheme.
"You have got to capture their attention through the content and I see the actual job advert as a data capture," says Higdon.
The article received over 5,000 page views and helped yield 82 applications, and around half of those candidates were signed up to the talent pool.
It also received over 1,000 social media shares and Higdon drew attention to how creative content can be amplified by social media.
Dentsu Aegis wrote a job advert for an SEO role partly in code so it would only be understood by someone qualified for the role.
This simple but effective piece of content received over 1,000 likes on LinkedIn, compared to the average 100 likes of a typical 'we are hiring' post.
Use social media to attract talent
Attendees discussed the merits of using other social media channels for recruiting including Instagram and YouTube.
One attendee was on a university placement scheme and had been tasked by her employer to set up an Instagram page that gave a behind-the-scenes look of what it was like to work at the company day-to-day.
However, another recruiter who uses Facebook, Twitter and Instagram to attract talent, believes social media is best suited to a "younger market rather than more established talent at senior levels".
"Before you start doing anything with social media understand why you are doing it," says Jamie Leonard, managing director, The Recruitment Events Co. "Don't just use it because everyone else is."
Leonard advocated the use of YouTube by recruiters and believes it is best used in three ways.
He recommends using it to give a behind-the-scenes look at the company culture, publish high quality episodic video content, or simply post adverts on the platform.
Proving return on investment
One firm that has effectively done the latter is HEINEKEN, which worked with creative studio Cloudfactory to create a slickly produced 'Go Places' advert to promote working at the drinks giant.
The advert was hosted on YouTube and accompanied by an interactive 'interview'. In order to ensure the advert reached the target market, HEINEKEN worked with Campaign to produce a series of articles about the initiative, and a live LinkedIn questions and answers session.
Tony Bennett, recruitment sales director at Campaign Jobs, admits the "difficulty is prising significant investment from the financial director to spend on an employer branding campaign, when it is difficult to quantify the return".
However, he argues the return on investment proves itself because during HEINEKEN's careers content campaign, for example, they received over 20 times the volume of applications for their jobs compared with an average standard listing. In addition, the average cost per application for the content-led campaign was 400% lower.
INTERESTED IN WORKING WITH CAMPAIGN JOBS TO SUPPORT YOUR RECRUITMENT CAMPAIGN?
Offer insider insight
Content can also be used to target individual and pivotal roles within an organisation.
UEFA worked with the Campaign Jobs group in order to hire a head of corporate communications after traditional recruitment methods had failed to find a suitable candidate.
An interview with UEFA chief of communications and media, Pedro Pinto, captured his insider insight about the role and the organisation's culture, while a follow-up article featured top tips from Pinto providing applicants with advice.
During the campaign, UEFA received 14 times the volume of applications for the role compared with an average standard listing, and succeeded in filling the position.
Jason Evans, senior HR manager at UEFA, had explained that every other candidate interviewed, all of which were of high quality, had seen the articles.
"Content is a great way to support and strengthen a recruitment message," says Campaign Jobs' recruitment sales manager Joe Edmonds, who works on a variety of recruitment campaigns.
Talent attracts talent
If engaging on a content-led campaign, Leonard advises bringing on internal talent, perhaps those with their own blog or celebrity ambassadors. After all, talent attracts talent and there is nothing as effective as advocacy.
The ultimate aim should be to build an employer brand that acts as a "trigger", says Leonard.
People walking down a high street and entering Topshop on spying the brand name should be no different from a candidate being triggered into applying for a job on seeing an employer brand.
With such a wealth of tools at their fingertips to build a brand through dynamic content there has never been a more exciting time to be an in-house recruiter.
Interested in working with Campaign Jobs to support your recruitment campaign? Click here to request a call back.