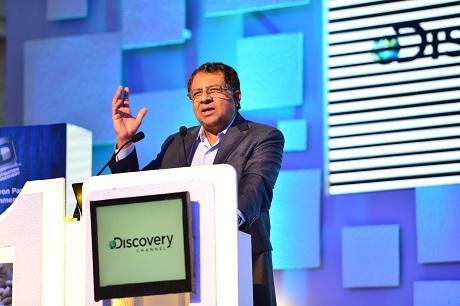 GOA, INDIA — The 10th annual Goafest kicked off Thursday in this coastal Indian state with addresses from speakers including Anand Kripalu, managing director and CEO of Diageo's United Spirits; D. Shivakumar, chairman and CEO of Pepsico India; R. Chandrasekar, head of communication and e-commerce, Nestle South Asia Region; and Sanjeeb Chaudhuri, global chief marketing officer and regional head, South Asia, Standard Chartered Bank.
The event, presented by the Advertising Agencies Association of India and the Advertising Club, draws about 2,000 marcomms professionals and features Goafest's Abby Awards.
At the event's Advertising Conclave (sponsored by the Discovery Channel):
Standard Chartered Bank's Chaudhuri urged agencies to become holistic. "The problem is that, clearly, because of fragmentation, specialisation needs in communication and blurring of adjacencies between advertising, PR, social media marketing (and others), marketers are tempted to work with myriad partners. On the face of it, that seems right. But if you look closely, it doesn't work," said Chaudhuri.
He contended that with online proliferation, there arises an opportunity for communication partners, which according to him agencies are yet to embrace fully. "You need to have an end-to-end communication and specialist perspective."
Nestle's Chandrashekhar argued against taking the safe route and encouraged "relevant creativity" among agencies. "At Nestle, we value adapting to achieve meaningful change, but on the other side we want to be calm and resist the industry assertions that everything has changed and all the old approaches have to be thrown out," he said.
"One one side we have human insights, brand propositions, big ideas, as the essential fundamentals of marketing. On the other side is consumer engagement services, capability building and digital innovation outpost, all of this put together is what constitutes brand building at Nestle. The critical thing is that all stakeholders get into this process at the start of the game; the earlier you start, the higher is the media efficiency and creative effectiveness."
Chandrashekhar also highlighted work that emerged from those human insights.
PepsiCo's Shivakumar discussed the importance of content and a focus on mobile. Urging the audience to rethink marketing in a mobile-first digital world, the speaker underlined that while change is a constant, what marketers need is "someone to connect the dots.
"Take fragmentation for instance. Fragmentation leads to specialization. A marketer who was dealing with five people (agencies) earlier, now has to deal with 16 or 17 people. The challenge is, how do we integrate (all those specialised services) with what the brand requires? And who has the seat at the table with the client?"
Pointing out that 45% of the world's population is aged between 16 and 24 years, Shivakumar noted that everyone today wants to be famous online, making consumption and sharing of content important to them. This therefore makes it imperative for brands to be part of the content story, he contended. And they see content as a "social commodity," he said, because they are able to share it freely.
"Consumers are deeply invested in content because their online reputation depends on it. And content is going to be king in a mobile-first digital world because they can share it freely (and instantly). I believe broadcasters and brands will collaborate a lot more (to create content). Content generation won't be the job of just an ad agency. It won't just be a creative department exercise in the next 10 years," he explained.
Diageo's Kripalu laid out a "vision of the future anchored in our roots."
He said, "We are living in a world that has an incredible pace of change. Many functions have evolved and people have started calling it a 'VUCA' [Volatile, Uncertain, Complex, Ambiguous] world. Imagine trying to make a living in such a world. The VUCA world has put marketing departments of companies under a lot more pressure and causing these teams to become much leaner. The difficulty of driving implementation is getting more complex because of the amount of data.
"Agencies aren't making 'media-neutral' campaigns," Kripalu observed."Earlier, changing an agency was compared to a divorce. Now, we're seeing a lot more flirting happening. With these changes, very often (the new) agency personnel don't understand the clients' business enough."
Attendee views
Goafest is not without its share of negative press, thanks to several industry leaders giving it a miss. But the event is not without its share of senior adlanders either. 'Meeting the industry' is the agenda for several delegates Campaign India spoke with.
Manish Bhatt, founder and director, Scarecrow Communications, an attendee of the festival since its inception, is here for the Abbys. He said, "The biggest reason for me attending the festival would be the Abbys itself, were we have around 35 shortlists. I believe it is the most important and significant national award. This is also one of the few occasions the industry gets to meet. Events like this are also important for the 70-member team at Scarecrow. Finally, every year the organisers do something new and different, so I'm looking forward to that surprise element too."
Mitrajit Bhattacharya, president and publisher, Chitralekha Group, has attended the festival for the past eight years. He says, "I love both Goa and the fest. I quite like the concept of Goafest. I'm looking forward to listen to some thought provoking talk by some good speakers, celebrate Abbys with the winners, meet industry peers and friends to exchange ideas (it is easier to meet them here than in Mumbai or Delhi) and finally just enjoy the after hours with some nice music and single malt!"
Vikram Gaikwad, founder, Underdog, returns to the festival after a two-year hiatus. His reason for being at the festival is seeing the best of advertising 'at one shot'. He says, "It's an annual short-handle event to watch the best of advertising work at one shot. Even all that work we may have missed all year long. So why miss out? I'm looking forward to see some great work winning this year, which eventually wins big in all international award shows. And yes not to forget that I am here to have a great time with my team, my friends and some great beer."
Satbir Singh, CCO, FCB Ulka, is here with the hope of seeing some non-traditional work. He says, "I've been here every year barring the first edition. It is a festival of our industry and that keeps bringing me back. You see some work, you meet some people, you hear some speakers. I'm hoping to see some non-traditional work. The rest is par for the course."
Read all about Goafest 2015 at campaignindia.in.