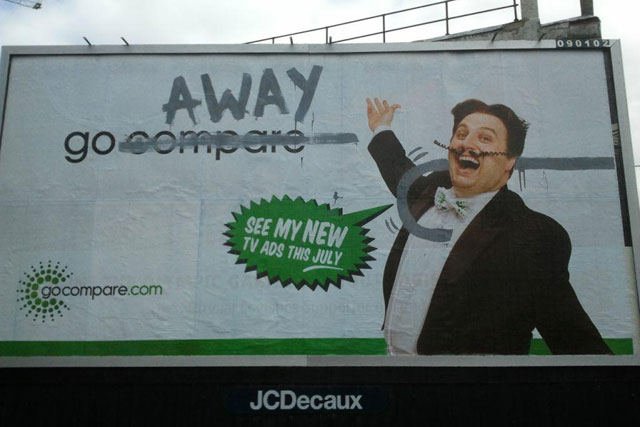 The 60-second TV ad, created by Dare, shows Gio, played by Welsh opera singer Wynne Evans, singing his signature song to a young couple. The ad has a more macabre tone than previous creative executions, as it cuts to a shady character in a balaclava, taking aim at Gio with a bazooka launcher.
A missile is launched, leaving a crater where Gio was standing. The spot ends with the new strapline, "GoCompare.com: Saving the nation."
The ad was directed by Big Red Button, and the production company was Moxie. The lead creatives on the campaign were Nick Bird and Lee Smith. Copywriters were Colin Smith and Angus Vine.
GoCompare has been running a teaser campaign for the past week with print and outdoor ads, which deface Gio, and a Twitter campaign, garnering the public's reaction to the ads.
Carat handled the media for the campaign, which runs for the next six weeks.
The campaign is the first from Dare for GoCompare, with the agency having been awarded the £28m advertising account in February, bringing the site's relationship with the creators of the mascot, the in-house team of Sian Vickers and Chris Wilkins, to an end.
GoCompare spots topped Marketing's poll of the most irritating ads voted for by the public in 2009, when the mascot first appeared, and again in 2010.
Nick Hall, head of marketing at GoCompare, said: "Since we introduced him [Gio] in 2009, we have had a lot of fun with the character and previous ads have shown this, but the next evolution allows us to take the campaign a step further.
"We know a lot of people find the character irritating and this is us saying 'we get it'. I think it is a very confident campaign and it delivers a strong message – GoCompare.com is dedicated to 'Saving the nation' both time and money."
Follow Sarah Shearman on Twitter @Shearmans