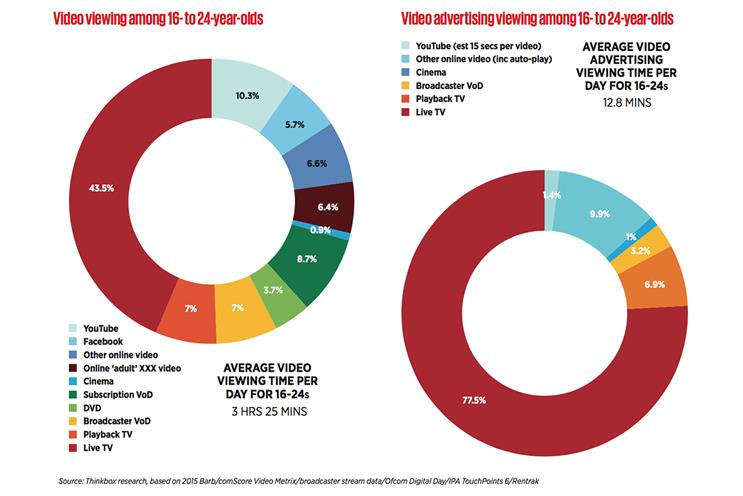 The TV industry has finally produced some data to challenge Google's sensational research claim that brands should put 24 per cent of their TV budgets into YouTube to reach 16- to 24-year-old Britons.
Thinkbox, the UK trade body for commercial TV, says it didn't want to rush to judgment, even though it thought the YouTube research was "ill-founded and irresponsible". So it has taken months to analyse viewing data and, importantly, advertising viewing data to test YouTube's claim, made at its Brandcast event in October last year.
While Google keeps most of its data private, Thinkbox used independent estimates from a number of public sources, including Barb, comScore, Ofcom and IPA TouchPoints, to examine viewing across all forms of video: TV, catch-up and on-demand, cinema and online.
The findings, which the trade body has given to Campaign, are dramatic.
Thinkbox started by looking at viewing of all video. Live TV accounts for just 43.5 per cent of video viewing among 16- to 24-year-olds. Add in playback catch-up and broadcaster video-on-demand, and that rises to 57.5 per cent. YouTube has 10.3 per cent of video viewing – a not insignificant amount. Facebook has 5.7 per cent. Other online sites, including XXX-rated video, have 13 per cent. Subscription VoD, such as Netflix, and DVDs account for 12.4 per cent.
However, the picture changed when Thinkbox looked at time spent watching video advertising. Even though TV accounts for 57.5 per cent of video viewing, it makes up 87.6 per cent of video advertising, in-cluding playback of linear TV and broadcaster VoD. Conversely, although YouTube represents 10.3 per cent of all viewing, it accounts for just 1.4 per cent of time spent watching video advertising.
On that basis, it would be hard to justify a brand spending 24 per cent of its TV budget with YouTube.
Thinkbox, whose members include ITV, Channel 4 and Sky, is always going to champion TV, but admits being surprised.
"We didn't expect the results to be quite so stark," Matt Hill, Thinkbox's research and planning director, says. "We did this analysis because we want the discussion and decisions about where advertising investment goes to be based on facts and effectiveness, not fashion or assertions. We have taken a great deal of time and effort to make this analysis as accurate and fair to all parties as possible."
Indeed, it allowed an average viewing time of 15 seconds for each YouTube ad, even though comScore estimates it at just three seconds.
Other online media, including Facebook, take up 18.7 per cent of video viewing but 9.9 per cent of video advertising that is watched. Thinkbox notes that some of those ads are likely to be "auto-play", meaning they begin playing automatically on-screen, even if they are not fully viewable or the sound is off.
Hill claims the findings are unequivocal: "They clearly show that TV is by far the best place to guarantee that your ad is actually seen, in full and with sound. It has the quality and volume of inventory to accommodate many thousands of advertisers with proven effectiveness."
Part of the reason that YouTube's reach may be limited, Thinkbox suggests, is that heavy users – the top 20 per cent – are responsible for an estimated 80 per cent of all viewing on YouTube.
Furthermore, most YouTube ads are skippable – there is often only one pre-roll ad before a piece of video content and there is a limited amount of premium content.
"If a brand is targeting 16-24s, then they would of course use online video at some level, but presumably only until it fails to deliver ROI," Hill says. "We would never normally suggest how brands apportion their media investment but, in response to YouTube's advice from last autumn, we suggest this be funded by new money or perhaps from their less-effective online display budgets, rather than by raiding their highly effective TV budgets."
Thinkbox says its argument is even more relevant in terms of all adults given TV accounts for 93.9 per cent of all the video advertising they watch.
Observers say Thinkbox's research has merit. "It's a serious attempt to get to grips with what's happening," Ian Maude, a director of the digital marketing group Be Heard, says. But he warns it would be wrong to think TV can resist change. "You might disagree with YouTube's 24 per cent figure, but there is a shift to new devices and content providers," he adds.
Maude even suggests the fact that viewers watch less video advertising online could end up attracting advertisers. "If ad minutage is higher for broadcast TV and lower for VoD, you could argue there is an opportunity to shift more money online," he says.
A Google spokesman says: "Third-party measurement studies are struggling to keep up with the audience shift to online viewing and, in this case, they underestimate both the viewing time and growth of YouTube in the UK." YouTube sees itself as "a fantastic complement to TV as it provides a great way to reach light TV users, with unmatched targeting options and measurable brand impact".
Hill concludes: "We would never have thought of doing this analysis if YouTube hadn't made those shocking claims and tried to persuade advertisers to switch substantial proportions of their TV spend to YouTube – advice that we believe is ill-founded and irresponsible."