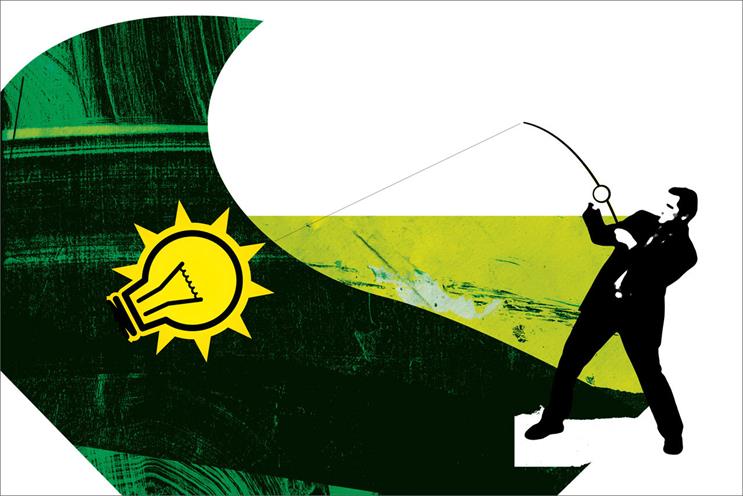 Few things can turn an agency's head like an exciting pitch in a dull economy. The flattery of being shortlisted, the imagined prestigious win and the impact on your numbers can all get in the way of examining whether this is the right pitch for you or whether, in fact, it is a pitch at all. It's on this last thought that I want to focus.
There are essentially two types of pitches that aren't really pitches. First, there's the "foregone conclusion". We have all been beneficiaries and victims here, and this is a situation where due diligence and common sense should be your best guides.
Then there's the "fishing expedition". We were recently involved in a three-month pitch process, initially including five agencies, with a substantial tender document requesting strategic and planning processes. This was followed by two presentation rounds and detailed requests. Subsequently, by then down to two agencies, we received an e-mail from the client advising us that they "were not structured" to manage an agency relationship at this time or in the foreseeable future. A phone conversation with them finally clarified that they would be running the operation in-house.
The pitch centred on online search – an area in which clients are taking a growing interest in deploying in-house solutions.
This can work for the very small account, where the agency fees would be disproportionate to the spend, and for the very large account, where the hiring of an in-house team can make financial sense. For the remainder, which form the majority of clients, the benefits of the plug-in services of an agency with current market knowledge, tools and proven ROI should far outweigh the in-house alternative.
It's possible that some clients only conclude that the in-house option is their best bet during the actual pitch process. If true, it's a pity that it involved so many others for them to form this view and disappointing that the explanation was delivered so late. More likely, we have allowed ourselves to be caught in a trawling exercise and have provided strategy and planning at no cost.
Well, with a respectful nod to hindsight, more fool us for not making the case more compelling or, more to the point, pitching.
So what can be done about it? I don't think we can avoid the pitch system. Personally, I wouldn't want to institutionalise the process with third parties any more than it has been already – although a register of pitch results to catch recidivists could help. I also don't think copyright law is much help here, particularly outside of the creative space, though I would like to explore this further. Penalty fees paid to participating agencies if the pitch rules change has less than a porcine chance of flight.
So it's really about better due diligence and getting clarity on what clients want from the start. How we do that is up to each of us and our own attitudes to risk.
Meanwhile, we continue to do what we do best, which is delivering launch strategies and growth for great clients and marketers. But, as opportunities steam over the horizon, I might be looking underwater for a trawl net.

Guy Sellers is the chief executive of Total Media