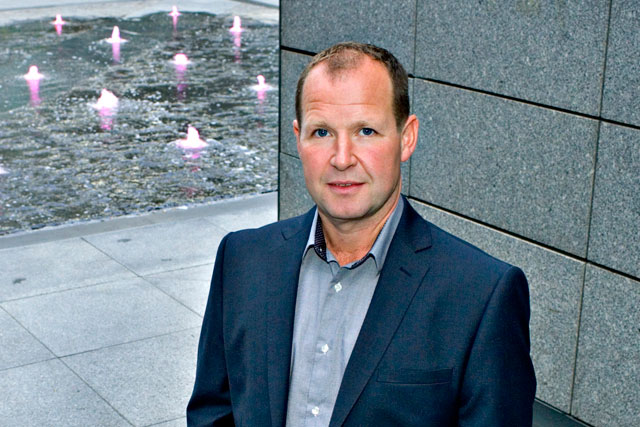 When we tell Azon Howie what some observers have been saying about his appointment, he confesses that he is a little bit surprised and more than a little disappointed.
There is a view out there (a minority view as far as we can judge, but a strongly expressed one) that Howie's promotion to the role of head of trading at Aegis is living and breathing evidence that the agency's chief executive, Robert Horler, wants to distance himself from the old ways of doing things - and for "old ways", you are quite at liberty to read "bad old ways".
Furthermore, you are then nudged towards the notion of identifying Steve Platt with the "bad" bit of the equation. Because, of course, Platt, who has headed up the group's trading efforts for the past six years or so, is being edged aside to make way for Howie, who moves up from the role of head of broadcast.
Although "Platty" is to stay on in a consultancy capacity at Aegis, there are those, not least in the broadcast market, who reckon he is being kept on only to mix it with the TV boys for one last time in this year's annual negotiating round. Then, they say, he will be invited to spend more time up on the riverbank - the inevitable fate of all those who are (as Platty is) as keen on fly fishing as they are truly terrible at golf.
About time, say some media owners, who affect to be bored with the Aegis "good cop, bad cop" routine they claim is now long past its sell-by date - though they do tend to concede that Platt is one of the baddest (worst doesn't really seem wholly appropriate in this instance) bad cops in the business.
"The way it would work," one connoisseur of the genre says, "is that Platty would go in and create mayhem and then Howie would come along and offer to help clear up the debris afterwards.
"Howie is very, very good at that. He comes across as laidback and self-effacing - and he's universally well-liked and respected in the business."
Here is another senior source, who (coward that he is) would rather we didn't reveal his name: "Sometimes, Platt does not appear to understand when he has gone too far. Most importantly, he seems to struggle to build relationships and partnerships - and Aegis and other media agencies have realised that simply driving down the price of media and aggressively dealing with media owners does not build a long-term remuneration model for media agencies."
Utter bollocks, Howie says. Actually, he doesn't quite put it that way. That's not his style at all. He comes across at all times as reasoned and reasonable, even when one is, accidently-on-purpose, asking him exasperatingly stupid questions. He is a paragon of patience; the embodiment of firm but fair.
It's difficult to imagine him raising his voice, and almost impossible to conceive of him resorting to tactical battlefield use of the C-word - at one time a venomous weapon of choice among an older generation of trading directors. Classically, trading directors used to be a bit like Malcolm Tucker in The Thick Of It - but without the caring and sensitive side.
So, yes, Howie is resolutely prepared to take issue with anyone who seeks to portray the Aegis trading set-up in such crude terms - or, indeed, with those who seek to suggest that his appointment is a radical break from the past. This is, he suggests, classic succession management.
"Robert (Horler) wants to drive change in the business. But somehow to suggest that Platty isn't part of that is wrong," Howie states. "It's true to say that Steve does inspire awe - and can polarise opinion. But the first things that Platty always asks is: 'Why are we doing it like this? Is there a better way of doing it?' So he's always challenging the status quo."
He adds: "Platty's not some kind of old-guard guy who's always resisting change. I've been lucky working for him. Now I have an opportunity to put more of my own stamp on things."
Actually, Howie is hardly alone in arguing that Platt is one of the wiliest and most innovative traders the media market has seen in recent times - many observers point out that, contrary to industry mythology, he has actually been at the forefront in evolving a cross-platform, collaborative trading ethos for Aegis.
In other words, Howie has acquired the best education that media money can buy. That's not to say that stepping up will be a breeze - and in the coming weeks and months, there will almost certainly be a developing role for Dominic Williams, the agency's head of press trading. The two men are the best of mates (Howie is godfather to Williams' son) and Williams says he is excited about the prospect of helping the new team to evolve.
But will Williams enjoy working for his former equal in the corporate hierarchy?
"Who wouldn't want me as their boss?" Howie laughs.
He concludes: "I am a more collaborative person generally. That's just part of my personality, and I'll have a fantastic team around me. I will play whatever part is needed, as appropriate.
"I've been working for the best buyer in the business ... and in some respects, none of that changes. It's a progression.
"There's a commitment to evolving the culture at Aegis, and we're all, including Steve, a continuing part of that. I think media owners can see that."
THE LOWDOWN
Age: 42
Lives: Epsom, Surrey
Family: Married to Rosa for 19 years, daughter Lorelin, aged 12, and son
Leon, aged five
Favourite media: Books
Last book read: The Sisters Brothers by Patrick deWitt
Alternative career: Greengrocer
Must-have object: BlackBerry
Interests outside work: Family, dogs, trying to get fit and golf