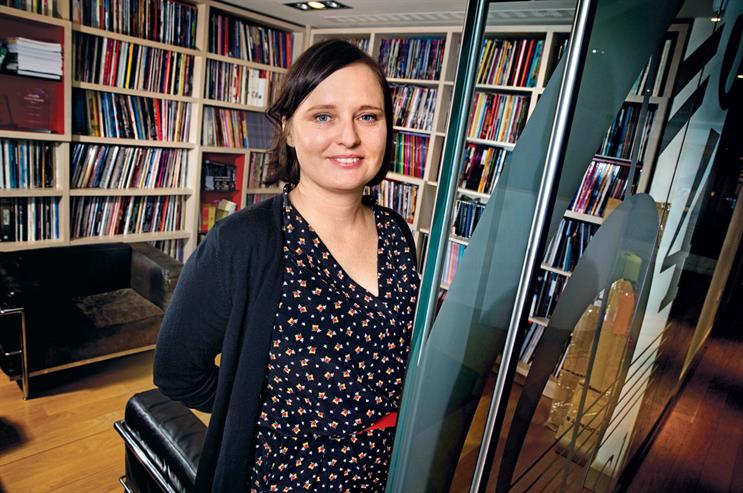 Bringing music to fashion shows, film sets and – of course – ads, it has been a varied year for Music Sales Creative. Not surprising, given that its catalogue encompasses everything from vintage musicals to Philip Glass.
January
The most coveted music syncs in the UK are the Christmas commercials and we are still feeling the post-Christmas glow after the wonderful work our talented composer Guy Farley has done on the Marks & Spencer extravaganza – recorded at Abbey Road Studios, no less.
Licensing a last-minute request for the use of The Twelve Days Of Christmas and also putting the vintage classic Everything Stops For Tea in a stunning Mulberry commercial featuring Cara Delevingne, we get excited about the year ahead.

February
Fashion Week usually brings up interesting music uses – we have had Chanel and Swarovski in the past. This year, Hugo Boss uses a track by Hauschka in its show and we license it for the online element.
March
We negotiate a deal with Apple and TBWA\Media Arts Lab for our classical composer/conductor Esa-Pekka Salonen in a film that shows how he uses his iPad to create innovative works. They follow him internationally and even make a new recording of his violin concerto with the Philharmonia and Leila Josefowicz – one of those rare 360-degree campaigns that puts music and creativity at its core.
April
Garnier uses Lily Allen's LDN in "ultimate blends" – the song features a sample of our copyright Tommy
McCook's Reggae Merengue. Little-known fact: we also have rights in Allen's Smile due to the sample of
Free Soul by The Soul Brothers.
May
The video for Coldplay's Magic, directed by Jonas Åkerlund, opens with a great tune from our catalogue: Do Something by Scrappy Lambert. We work with Parlophone on the licence. With more than 50 million views on YouTube to date, it's one of our most-viewed syncs.
June
Fly to Cannes. Realise you guys party even harder than the music industry – how times have changed!
July
We take Tin Drum Music and WCRS to a very intimate BBC Radio 3 Late Junction recording at the legendary Maida Vale Studios with our composer Richard Reed Parry of Arcade Fire. He has written some of the most interesting classical music of recent times and – along with our other composers Bryce Dessner (The National), Dustin O'Halloran, A Winged Victory For The Sullen, Hauschka and Nico Muhly – is part of a new generation where labelling with genres seems irrelevant.
Both The National and Arcade Fire play Hyde Park, so it's guestlist a gogo taking clients to the shows.
August
The Theory Of Everything trailer goes live, featuring Runaway Horses by Glass. Amazing music and lovely man.
September
A sought-after global car commercial is landed for one of our songs but time to seek approval is tight: cue our people in Croatia driving to the two composers' houses to guarantee clearance in time for the client's deadline. The lengths we go to! Everyone loves the song; brand, client and music supervisor happy.
Land three compositions in three separate Vodafone commercials by the esteemed composers Jocelyn Pook and O'Halloran. Grey and Platinum Rye Entertainment do a great job at working with music early on – an excellent example of music enhancing the emotion of the film.
We have one of our special showcases at Music Sales Creative headquarters – this time to celebrate our composer George Fenton (Gandhi, Groundhog Day, The Blue Planet etc). We are delighted that his long-time collaborator Ken Loach comes too.
October
At the first Music Week Sync Awards, we win Best Independent Publisher Sync Team. Big celebrations!
As part of our work music-supervising This Is England '90, we head to Sheffield to go on set with the Warp Films team and Shane Meadows.
There is a resurgence of old classics being used in commercials (such as Chicken Fat in the Apple ad), which is great for a catalogue such as ours. We see the use of Nellie The Elephant and Boogie Oogie Oogie in two Tesco commercials – one for toys and the other for booze. Just hope the songs/campaigns don't get mixed up!
November
Dean Blunt (signed to us through our partnership with Aim Low) releases Black Metal on Rough Trade Records and it is tipped as one of the albums of 2014. We take Platinum Rye to his show at Electrowerkz for some extreme strobe lighting and one of the live events of the year.
We license Lovin' You by Minnie Riperton for a UK Carlsberg ad. The use is in a karaoke-style with lyrics
attached: we can all sing along while salivating over a cold can of beer!
December
Through our partnership with Woodwork Music, the composer Philip Kay part-scores and rearranges an English/German version of Silent Night for the Sainsbury's Christmas 2014 commercial.
Joel Cadbury reworks his Lidl bespoke composition with a festive feel, and we end the year delighted to be part of the Christmas ad frenzy again.
---
Bree Winwood is the head of sync at Music Sales Creative