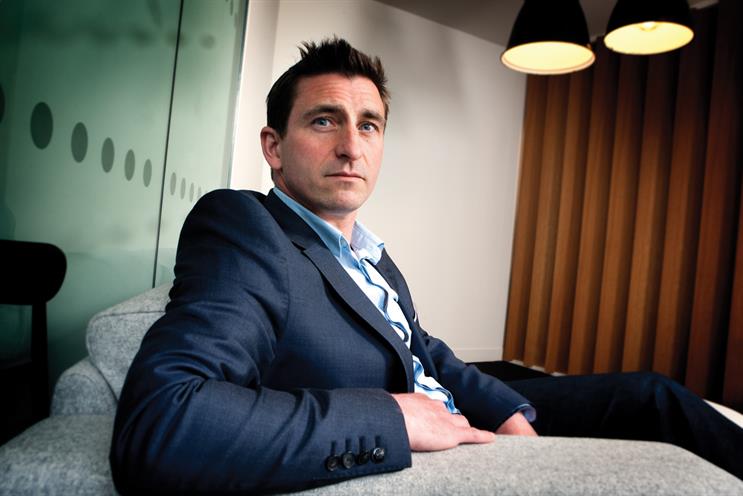 It's high time we turned the spotlight on to Goodstuff Communications, the little media shop that caused something of a stir when it was anointed Campaign's Media Agency of the Year in 2012. In our School Reports, we handed it a rather rare nine out of nine too – and you get the sense that the journey is only just beginning.
Andrew Stephens, Goodstuff's founder alongside Ben Hayes, is fiercely proud of what the agency achieved last year – and is more than pleased that it's now getting the widespread recognition he believes it so richly deserves.
"In 2011, when we decided to relaunch as an independent full-service media agency, we knew it would be tough – and it has been hard work for the whole team," he says. "We're an agency of 30 people up against the big guys, who can deploy hundreds of people in a pitch."
But not only has Goodstuff been pitching, it has been winning too – and Stephens argues that the Taylors of Harrogate win in January was a milestone moment.
It's not only Goodstuff's first FMCG client, but also represents its largest win at £5 million, securing the agency a number-four spot in the new-business league table. It was reeled in after a fiercely contested pitch against Media-Com, PHD and the7stars.
Stephens calls it vindication that Goodstuff's unique offering is scalable, in a round-about recognition that the agency's real challenge is to build from here and turn itself into a really significant media business that can mix it with the big boys.
Goodstuff first launched in 2004 as a communications planning agency in a market defined by the likes of Naked Communications and Michaelides & Bednash; but the sector declined markedly as the recession bit ever deeper and, by 2011, a radical rethink was needed. It decided on the brave step of entering the media buying bear pit.
Omnicom already had a stake in Goodstuff (Stephens and Hayes were leading lights at Manning Gottlieb OMD before deciding to strike out on their own, and their boss, Nick Manning, believed they were worth keeping loosely in the family). In the restructure, this stake was raised to 35 per cent, with the partners (as well as the founders, these include Simeon Adams, Simon Wilden, Paul Gayfer and Bobby Din) retaining the rest.
'We're an agency of 30 people up against the big guys, who can deploy hundreds of people in a pitch'
This new deal enables Goodstuff to plug into Omnicom group resources, such as in data and analytics, in order to compete with the biggest media agencies on delivery, while operating wholly independently as a full-service media shop. Stephens makes it clear, for instance, that it buys its own media "line by line" and doesn't shunt anything through the Omnicom group buying operation, OPera.
Thus, Stephens argues, Goodstuff can offer the best of both worlds – competitive buying performance allied to creative thinking. He asserts that no-one else in the marketplace is able to do this – in fact, Stephens claims he's mystified as to why other holding companies haven't encouraged the evolution of similar structures.
For certain types of "entrepreneurial" and "challenger" clients, he adds, it's a compelling offer: "Creativity is absolutely central to what we do – and another way in which we are unique is that all the partners have previously worked for creative agencies."
He believes this will increasingly be recognised as a winning proposition. "I'd be disappointed if we're not a £40 million agency by the end of this year," he says. (It ended 2012 on around £15 million.)
Stephens embodies an intensity that has been undiminished down the years – even during the period prior to the 2011 relaunch, when it seemed as though Goodstuff was losing traction. Now, that intensity is backed by a visibly apparent confidence and belief.
It's the sort of intensity you often see in top sports people – and, indeed, it's no surprise to discover that Stephens came within a whisker of making it as a fast bowler with Somerset. His mentors there included Sir Viv Richards and Sir Ian Botham and much was expected of him, but he was "let go" aged 16. (A couple of extra inches in height might have made all the difference, he says ruefully.)
So what, if anything, did he bring from that sporting background into business life? A notion, perhaps, that league tables never lie?
Stephens reckons he has learned that "sometimes the slower ball really does work"; but, on reflection, he says, his cricketing disappointment made him more determined than ever to succeed in the wider world. "I have an unrelenting desire to beat the big guys," he admits. You have been warned.
The lowdown
Age: 42
Family: Married to Rebecca, with three children – Lily (nine), Harry (seven) and Scarlett (five). Dog, cat and horse
Lives: Henley-on-Thames
Desert-island luxury: Billy Birmingham's The 12th Man complete set
Interests: Running, golf, lunch, Spurs and house redevelopment
Favourite media: BBC Radio 5 Live, Twitter, kids cinema trips and Mrs Brown's Boys (feckin' funny)
Motto: Unapologetically stolen from the marble of 90 Charlotte Street – "Nothing is impossible"