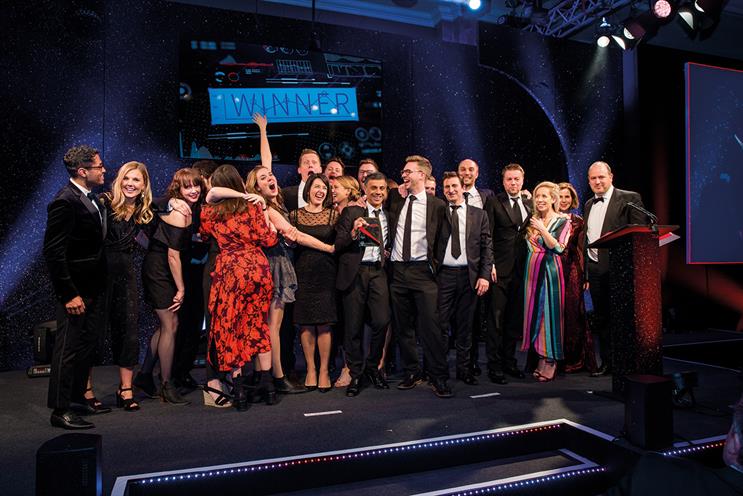 New agency models, new ways of working and new product development featured heavily among the winners at this year's Campaign Media Awards, which recognised ideas, innovation and strategic thinking in media.
Goodstuff Communications was the most awarded agency as it picked up four prizes, including the Grand Prix and the Data and Creativity Award for "Honeypot poster network", an innovative, data-driven, digital out-of-home campaign for insurer Hiscox.
The campaign, which ran on 37 sites in eight cities, showed in real time how cyber attacks were a live threat for small businesses and delivered "the most successful period ever" for Hiscox's cyber insurance arm, according to the winning entry.
The agency collected two other prizes: one for branded content for Yorkshire Tea, which partnered The Telegraph to emphasise the tea brand's premium qualities, and one for the Best Media and Entertainment Campaign for ITV's launch of Strangers, which put Cantonese text on 48-sheet posters and a Metro coverwrap to promote the Hong Kong-set drama.
Goodstuff Communications' triumph was proof that a relatively small, independent shop with only about 100 staff can compete against the biggest global networks. Andrew Stephens and Ben Hayes, who founded Goodstuff Communications as a planning shop in 2004 and moved into buying in 2012, said the recognition from the Campaign Media Awards judges was "a milestone in our mission to be the world's most inventive media agency".
Stephens and Hayes continued: "With the current economic climate, it's simply much harder to convince clients to buy in to brave, and inherently more risky, media solutions. All of our winning campaigns weren't bought at the first time of asking – many not even the second time. So it's testament to our team's self-belief, determination and supportive clients who trust us to deliver."
PG One, Publicis Groupe's bespoke unit that combines media, creative and data under one roof for Procter & Gamble, won Agency Team of the Year in a fiercely competitive category.
The judges were impressed that, at a time when clients are scrutinising the traditional agency model, Publicis Groupe came up with a radical reorganisation of the way it worked to retain the world's biggest advertiser in a UK pitch and then brought this newly integrated team into its Chancery Lane office in London.
Nadine Young, managing director of PG One, said the award recognised it has been a team effort to create "something very special" that won a public endorsement from Marc Pritchard, chief brand officer of Procter & Gamble, at ISBA's annual conference last year.
Young said: "At PG One, we have built what we believe is a truly transformative model, one that brings together media, creative, data and technology with the single-minded goal of driving growth for P&G." She added that the "model will keep evolving" as "we strive to keep ahead of industry trends and keep the pioneering spirit that is part of our DNA".
MediaCom's Mental Health Allies was highly commended for Agency Team of the Year. The WPP shop has trained more than 40 staff to support employees across the 1,200-strong UK operation and the judges hailed the initiative as groundbreaking, particularly given it is a subsidiary of a global organisation.
MediaCom was the second-most-awarded agency, picking up three prizes plus the commendation. It won Best Retail Online and Offline Campaign and Best Media Partnership for Missguided's tie-up with ITV's Love Island and it won best use of insight for Ask Twice, a campaign for mental health charity Time To Change, which encouraged people to be supportive when someone close admits they aren't happy.
Missguided, a Manchester-based online fashion retailer, is one of a new breed of fast-growing ecommerce businesses to emerge in the north west in recent years.
Paul Cooper, chief operating officer of MediaCom North, said about 80% of MediaCom North's clients are digital disruptors and direct-response businesses. "Missguided has been a long-term client and these wins are testament to our specialist capabilities in helping online brands deliver cut-through with innovative media partnerships that are truly multichannel and focused on longer-term business outcomes," he added.
Guardian News & Media was the top performer among the media owners, winning three awards: Commercial Team of the Year and two prizes for brand partnerships with TSB and eBay.
Hamish Nicklin, chief revenue officer of GNM, said: "The team has worked with imagination and determination to set themselves and The Guardian's advertising proposition apart. We've been fighting for a return to quality and it's fantastic to have this recognised, not only in this award but specifically for our branded content as well."
Caroline Foster Kenny, EMEA chief executive of IPG Mediabrands, was the chair of the judges. She was joined by more than 40 executives from brands, agencies and media owners in deciding on the winners.
"We all know what the Campaign Media Awards mean to our industry," she said. "They challenge us to be better: more intelligent, more strategic and more progressive in the work we do for our clients. They hold us to account and we love that."
Almost 600 guests attended the sold-out, black-tie awards dinner at the Park Lane Hilton and they donated £1,800 to Me Too & Co, which supports children with disabilities and additional needs and is the chosen charity of Campaign's owner, Haymarket. Sally Phillips, the actor and comedian, hosted the awards and Justin Wilkes, who launched the Kisstory station for Kiss FM, DJed at the after party.
Campaign Media Awards 2019: the winners
BEST OF THE BEST CATEGORIES
Agency Team of the Year – Innovation
Publicis | PG One
Commercial Team of the Year – Innovation
Guardian News & Media | The Guardian
Grand Prix – Campaign of the Year
Goodstuff Communications | Hiscox "Honeypot poster network"
Grand Prix – Agency of the Year
Goodstuff Communications
PRODUCT SECTOR CATEGORIES
Alcoholic Drinks
Havas Group Media | Britain's Beer Alliance "Long live the local"
Automotive
PHD | Volkswagen Group "Rammed with confidence"
Banks and Financial Services
Guardian News & Media | The Guardian and TSB "The relationship project"
Corporate and Utilities
OMD UK | Intel "The ESPN Luck Index powered by Intel"
Fashion and Beauty
Zenith | Max Factor "Hollywood glamour"
Food, Drink and Household
Blue 449 | KFC "FCK"
Healthcare
Zenith | Bodyform and Refinery29 "#BloodNormal"
Media and Entertainment
Goodstuff Communications | ITV Strangers "Cantonese confusion"
Public Sector and Charities
OMD UK | NSPCC "Understand me"
Retail – Online and Offline
MediaCom "Missguided styles Love Island"
Travel and Leisure
Manning Gottlieb OMD | Virgin Trains
DATA AND CRM CATEGORIES
The CRM and Media Award
Hearts & Science UK | Hope Fashion
The Data and Creativity Award
Goodstuff Communications | Hiscox "Honeypot poster network"
CONTENT CATEGORIES
Best Social Strategy
Manning Gottlieb OMD | Starbucks Pumpkin Spice Latte
Best Use of Experiential
Adam & Eve/DDB | CALM "Project 84"
Branded Content
Goodstuff Communications | Yorkshire Tea "Growing for gold"
Content Strategy
Guardian News & Media | The Guardian and eBay "Punk business"
Media Partnerships
MediaCom | "Missguided styles Love Island"
INSIGHT AND INNOVATION CATEGORIES
Best Use of Insight
MediaCom | Time to Change "Ask twice"
Creative Idea
PHD | Volkswagen Group "Rammed with confidence"
Product Innovation – Media Agency
Zenith | Coty "Fragrance finder"
Product Innovation – Media Owner
The Telegraph | Telegraph "Clarity"
Total Communications Campaign
Adam & Eve/DDB | CALM "Project 84"
INTERNATIONAL
Best International Strategy
Wavemaker | Formula One "Engineered insanity"
For more details on the entries, visit campaignmediaawards.com