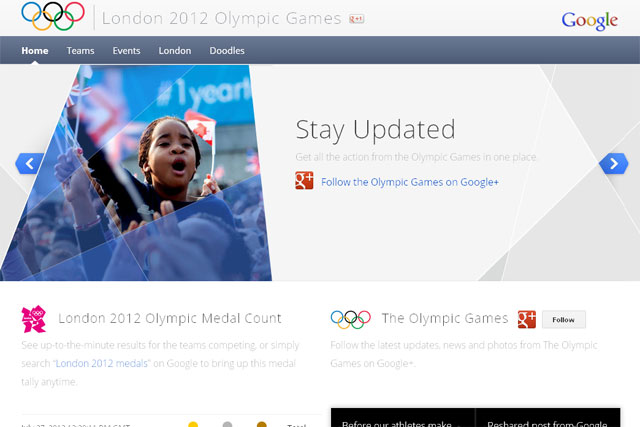 Google has created a range of interactive content for the hub. This includes an interactive map, which will be updated as countries pick up medals and a timeline of the development of the Olympic park and surrounding area using images from Google Earth that extend back to 1945.
The hub also hosts video, including the "fly-through", which uses shots of the various Olympic venues as well as London museums and football stadiums, taken from Google Earth.
It also housed the video of Olympic sprinter Usain Bolt on its live Hangout, earlier this week.
Other content includes the "cheer on" app, which allows users to join a hangout with their friends where they can watch and support the Games together.
Visitors to the Games can also find offline and indoor map apps, as well as links to third-party apps such as the London 2012 Journey Planner.
Google+ does not serve ads, so there have been no provisions for the official sponsors.
When Facebook launched its own Olympics hub to connect users with Olympians, it agreed to remove advertising from those pages, to protect the official sponsors.
Follow @shearmans