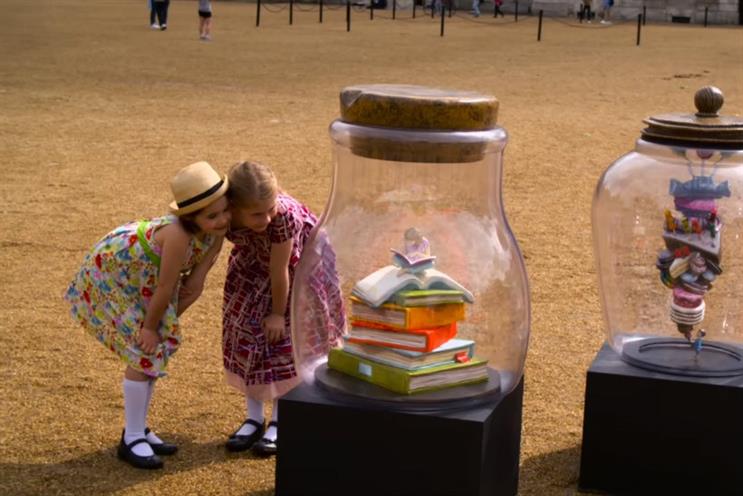 The production company has dotted 50 six-foot "dream jars" around London landmarks, featuring the childhood dreams of celebrities including Steven Spielberg and Mark Rylance.
The concept references the fact that the Roald Dahl character bottles dreams and blows them into the bedrooms of children.
In partnership with its media agency Zenith and Google, Entertainment One is using Nearby Notifications, which launched last month, to alert passing Android users to the real-life jars.
Any Android user with Bluetooth switched on will receive a notification when they're within 15 metres of a jar.
A spokeswoman confirmed the notification is not opt-in, meaning a passing Android user with Bluetooth activated will receive the alert automatically. However, Zenith described the notification as "subtle".
Clicking through the notifications gives the user more information about the jars, the installation and the film's release.
Those with an iPhone can access the same content by opening Google Maps or Google Now when near to a jar.
The installation runs until 31 August. Jar locations include Trafalgar Square and the Emirates Stadium.
A wider media campaign for The BFG also features 'breaking news' alerts in primetime ITV programming, social and native online content. The alerts see ITV's news anchors jokingly reporting on aspects of The BFG, including a child spotting a Snozzcumber, the fictional food in Roald Dahl's original story.
Kezia Williams, head of theatrical distribution at Entertainment One UK said: "The BFG Dream Jar Trail is a hugely exciting initiative.
"Not only does it offer the perfect way for us to engage with the audiences ahead of the film's launch, but it also presents a fantastic opportunity to make use of innovative technology to offer consumers a wealth of digital content."