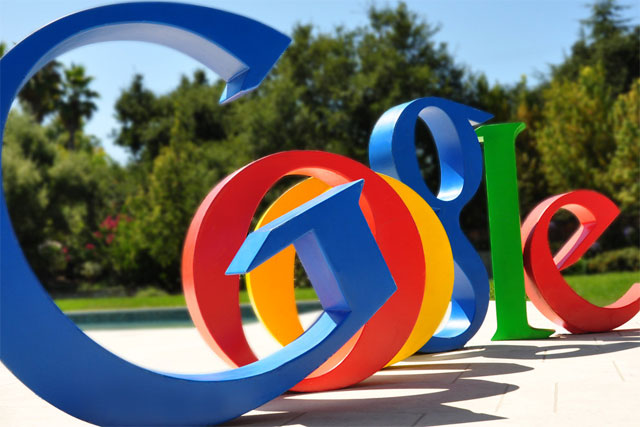 Google spent £15 million on television advertising in 2013, £5 million on outdoor media, £4 million on cinema and £3.5 million on press, according to new data.
The 50 per cent increase in advertising last year was enough to make Google the UK's 31st biggest advertiser, rising from £30 million to £45 million, according to Nielsen Ad Dynamix, which monitors TV, print, radio, cinema, outdoor, direct mail and online display spend.
The marked increase in advertising spend resulted in Google leapfrogging food giant Mars Confectionery (£44.6m), high street bank Halifax (£44m) and Telefonica's telecommunications giant, O2 (£41m).
Google, which celebrates its 18th year in 2014, famously eschewed traditional advertising during its formative years.
The company only began running traditional TV campaigns in the summer of 2009, to promote its web browser Chrome, a direct competitor to Microsoft's Internet Explorer and Mozilla's Firefox.
The internet giant has since steadily increased its online and offline marketing activity around its Chrome browser and email service Gmail, ahead of a concerted push for its Chromecast dongle in 2014.
In 2013, Google's TV activity also included a Christmas campaign promoting its Nexus 7 tablet created by Joint, and a series of ads documenting the most searched-for terms of 2013 by Adam & Eve/DDB. Media planning and buying for the campaigns was handled by OMD and Essence.
Google's biggest year yet on advertising in the UK preceded the company reaching an all time high market capitalisation of $400 billion in February 2014, placing it behind only Apple in terms of value.
Microsoft continues to invest
Google's rival Microsoft increased advertising expenditure in 2013 by a similiar amount, rising from £40 million to more than £60 million as the company ditched its long standing mail service, Hotmail, in favour of Outlook.
Microsoft also spent some of its marketing budget last year reminding consumers that Google scans Gmail accounts in search of trends and keywords that can then be used to deliver better targeted ads. Microsoft also invested heavily advertising its tablet Surface.
The biggest riser among the top advertisers last year was Talk Talk, which almost doubled spend to £93 million, fuelled by the notable marketing of its Talk Talk TV, and its X Factor sponsorship.
BSkyB continues to lead
In the face of mounting competition, BSkyB, the satellite broadcaster, stretched its lead as the UK's biggest advertiser in 2013, with £246m representing a near 10 per cent lift year-on-year. Meanwhile, second placed Procter & Gamble cut its media spend by nearly 10 per cent to £177.3m.
A strong contender for the biggest surprise fall in adspend last year came from the third biggest advertiser, telecoms giant BT. Despite the major launch of its first TV channels, BT Sport 1 and 2, the company's media activity dropped nearly 17 per cent to £150 million as it refocused its marketing.
The improving economic outlook for the general consumer appeared to be confirmed by a rise in adspend by most of the major car brands, led by Renault (67 per cent), Ford (45 per cent), BMW (38 per cent), Skoda (34 per cent) and Vauxhall (6 per cent).
However, bucking the trend were falls in adspend by German automotive marques Volkswagen (-13 per cent) and Audi (-20 per cent).
The Nielsen figures are estimated based on rate card calculations, Advertising Association discounts, monthly revenues figures, seasonal weightings and industry averages.
| | | | | |
| --- | --- | --- | --- | --- |
| Rank | Advertiser | Expenditure | Expenditure | % Year on Year |
| 1 | British Sky Broadcasting Ltd | 264,338,785 | 241,106,331 | 9.63 |
| 2 | Procter & Gamble Ltd | 177,257,396 | 195,182,834 | -9.18 |
| 3 | Bt Ltd | 149,788,119 | 179,677,909 | -16.63 |
| 4 | Unilever Uk Ltd | 119,100,702 | 138,979,674 | -14.30 |
| 5 | Tesco Plc | 116,269,526 | 117,403,761 | -0.96 |
| 6 | Asda Stores Ltd | 97,035,247 | 109,139,356 | -11.09 |
| 7 | Talktalk Grp | 92,545,979 | 48,486,735 | 90.86 |
| 8 | Virgin Media | 88,357,222 | 106,062,440 | -16.69 |
| 9 | Wm Morrison Supermarkets Plc | 81,522,591 | 76,681,050 | 6.31 |
| 10 | Dfs Furniture Co Ltd | 75,682,183 | 79,895,687 | -5.27 |
| 11 | Vodafone Ltd | 74,594,746 | 58,193,426 | 28.18 |
| 12 | Mcdonalds Restrs Ltd | 72,148,548 | 55,670,024 | 29.60 |
| 13 | Reckitt Benckiser (Uk) Ltd | 68,980,070 | 76,107,639 | -9.36 |
| 14 | Loreal Paris | 63,593,242 | 69,284,114 | -8.21 |
| 15 | Nestle | 63,150,743 | 57,586,017 | 9.66 |
| 16 | Lloyds Bank Plc | 62,299,430 | 52,128,303 | 19.51 |
| 17 | Sainsburys Supermarkets Ltd | 60,440,611 | 60,698,553 | -0.42 |
| 18 | Microsoft Ltd | 60,156,751 | 40,027,216 | 50.28 |
| 19 | British Gas Plc | 60,135,852 | 64,785,302 | -7.17 |
| 20 | Aldi Stores Ltd | 56,594,569 | 43,321,903 | 30.63 |
| 21 | Boots The Chemists Ltd | 56,129,214 | 53,525,341 | 4.86 |
| 22 | Dsg Intl Holdings Plc | 54,242,348 | 46,957,991 | 15.51 |
| 23 | Samsung (Uk) Ltd | 53,564,819 | 64,510,309 | -16.96 |
| 24 | Ee Everything Everywhere Ltd | 53,115,591 | 87,196,029 | -39.08 |
| 25 | Marks & Spencer | 50,710,168 | 67,739,402 | -25.13 |
| 26 | Direct Line Ins Plc | 50,486,785 | 57,999,283 | -12.95 |
| 27 | Shop Direct Home Shopping Ltd | 50,381,603 | 32,598,662 | 54.55 |
| 28 | Argos Ltd | 49,111,858 | 56,803,395 | -13.54 |
| 29 | Jd Williams & Co Ltd | 47,670,109 | 56,394,491 | -15.47 |
| 30 | Ford Motor Company Ltd | 46,560,554 | 32,119,053 | 44.96 |
| 31 | Google Com (Us) | 45,718,614 | 30,386,773 | 50.45 |
| 32 | Mars Confectionery | 44,600,484 | 50,994,045 | -12.53 |
| 33 | Camelot Group Plc | 44,161,933 | 44,775,967 | -1.37 |
| 34 | Halifax Plc | 43,860,643 | 48,968,858 | -10.43 |
| 35 | Specsavers Optical Group Ltd | 43,796,388 | 43,250,656 | 1.26 |
| 36 | Kelloggs Co Of Gb Ltd | 43,481,511 | 40,052,578 | 8.56 |
| 37 | Barclaycard Services Ltd | 43,356,420 | 45,291,669 | -4.27 |
| 38 | O2 Uk | 41,339,339 | 55,493,253 | -25.50 |
| 39 | B&q Plc | 39,437,279 | 36,537,750 | 7.93 |
| 40 | Amazon (Uk) Ltd | 36,566,450 | 35,800,623 | 2.13 |
| 41 | Vauxhall Motors Ltd | 36,480,286 | 34,371,780 | 6.13 |
| 42 | Volkswagen Uk Ltd | 34,346,092 | 39,178,775 | -12.33 |
| 43 | Barclays Bank Plc | 34,035,611 | 33,142,363 | 2.69 |
| 44 | Cooperative Food | 33,607,431 | 26,065,068 | 28.93 |
| 45 | Coca Cola Great Britain | 32,984,474 | 29,099,437 | 13.35 |
| 46 | Mars Uk Ltd | 32,706,196 | 29,355,116 | 11.41 |
| 47 | Hutchison 3g Uk Ltd | 32,611,719 | 58,600,164 | -44.34 |
| 48 | John Lewis Partnership | 32,565,688 | 29,948,399 | 8.73 |
| 49 | Santander | 32,264,397 | 30,221,783 | 6.75 |
| 50 | Beiersdorf Uk Ltd | 32,227,172 | 23,512,042 | 37.06 |
| 51 | Glaxosmithkline Plc | 31,912,924 | 39,807,512 | -19.83 |
| 52 | Kentucky Fried Chicken Gb Ltd | 31,647,353 | 32,299,497 | -2.01 |
| 53 | Bgl Grp Ltd | 31,249,685 | 32,639,163 | -4.25 |
| 54 | Twentieth Century Fox Film Company | 31,011,490 | 27,783,432 | 11.61 |
| 55 | Apple Computer Uk Ltd | 30,589,132 | 29,814,035 | 2.59 |
| 56 | Lidl Uk Gmbh | 30,347,048 | 24,923,504 | 21.76 |
| 57 | Heineken Uk Ltd | 29,878,219 | 24,614,538 | 21.38 |
| 58 | Natwest | 29,277,814 | 30,831,564 | -5.03 |
| 59 | Gocompare Com | 27,816,070 | 30,117,308 | -7.64 |
| 60 | Renault Uk Ltd | 26,738,509 | 15,970,479 | 67.42 |
| 61 | Moneysupermarket Fin Group Ltd | 26,631,796 | 26,885,856 | -0.94 |
| 62 | Bmw Uk | 26,547,053 | 19,240,406 | 37.97 |
| 63 | Garnier | 26,113,550 | 26,980,460 | -3.21 |
| 64 | Audi Uk Ltd | 26,001,397 | 32,405,750 | -19.76 |
| 65 | Waitrose Ltd | 25,804,947 | 22,822,696 | 13.06 |
| 66 | E1 Entertainment Uk | 25,792,078 | 17,032,422 | 51.42 |
| 67 | Warner Bros Distributors (Uk) Ltd | 25,605,168 | 23,102,836 | 10.83 |
| 68 | Wdfc Uk Ltd | 25,459,934 | 21,219,180 | 19.98 |
| 69 | Toyota (Gb) Ltd | 25,117,616 | 23,383,446 | 7.41 |
| 70 | Hsbc Bank Plc | 24,640,478 | 25,090,344 | -1.79 |
| 71 | Wickes Building Supplies Ltd | 24,614,452 | 29,013,808 | -15.16 |
| 72 | Muller Dairy (Uk) Ltd | 24,570,685 | 19,074,949 | 28.81 |
| 73 | Peugeot Motor Co Plc | 24,493,857 | 26,860,817 | -8.81 |
| 74 | Colgate Palmolive Ltd | 24,437,107 | 24,385,217 | 0.21 |
| 75 | Universal Pictures Limited | 24,416,623 | 28,782,072 | -15.16 |
| 76 | Confused Com Ltd | 24,355,151 | 29,750,722 | -18.13 |
| 77 | Sony Mobile Communications Ab | 24,295,850 | 11,706,476 | 107.54 |
| 78 | Debenhams Plc | 24,277,022 | 22,310,348 | 8.81 |
| 79 | Sony Music Entertainment (Uk) Ltd | 24,107,943 | 17,692,350 | 36.26 |
| 80 | Churchill Insurance | 23,516,093 | 27,980,595 | -15.95 |
| 81 | Ikea Uk Ltd | 23,351,243 | 19,427,427 | 20.19 |
| 82 | William Hill Bookmakers | 23,297,886 | 22,854,628 | 1.93 |
| 83 | Citroen Uk Ltd | 23,201,105 | 21,765,651 | 6.59 |
| 84 | Diageo Uk Ltd | 23,005,366 | 22,942,265 | 0.27 |
| 85 | Skoda Uk Ltd | 22,717,099 | 16,950,346 | 34.02 |
| 86 | Axa Sun Life Direct Ltd | 22,460,783 | 48,206,545 | -53.40 |
| 87 | Chanel Ltd | 22,252,497 | 22,369,530 | -0.52 |
| 88 | Harveys Furnishing Group Ltd | 22,149,896 | 19,225,093 | 15.21 |
| 89 | Nissan Motor Gb Ltd | 22,055,087 | 24,134,957 | -8.61 |
| 90 | Post Office Ltd | 21,716,761 | 12,833,123 | 69.22 |
| 91 | Ebay | 21,470,928 | 42,087,973 | -48.98 |
| 92 | Outside Clinic | 21,457,574 | 11,845,512 | 81.14 |
| 93 | Kraft Foods (Uk) Ltd | 21,436,415 | 24,239,343 | -11.56 |
| 94 | Fiat Auto Uk Ltd | 21,424,275 | 21,686,015 | -1.20 |
| 95 | Aviva Plc | 21,302,202 | 25,011,170 | -14.82 |
| 96 | Mercedes Benz Ltd | 21,212,432 | 21,538,219 | -1.51 |
| 97 | Carphone Whse | 20,881,881 | 18,496,370 | 12.89 |
| 98 | Lv Group | 20,724,050 | 22,141,926 | -6.40 |
| 99 | American Express Europe | 20,692,632 | 24,154,817 | -14.33 |
| 100 | Saga Services Ltd | 20,623,555 | 23,708,652 | -13.01 |