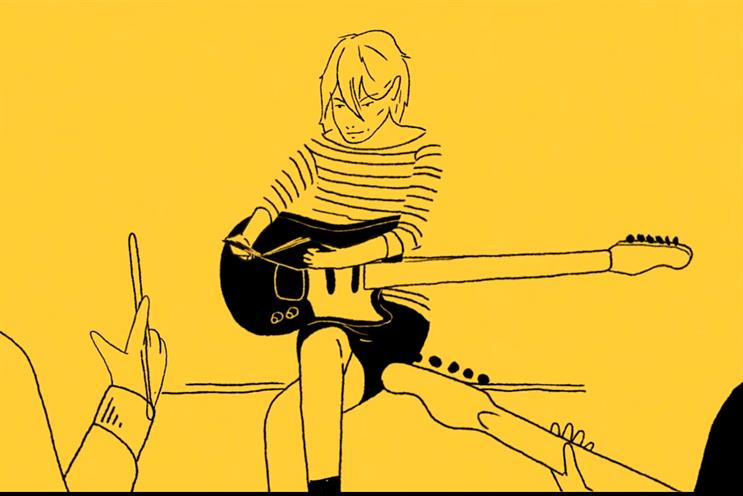 Sonic Youth's Kim Gordon continues Google Play's "California Inspires Me" series of web films discussing her youth in the Golden State. It's the latest installment by BBH LA for Google.
The digital entertainment division of the search giant has done several films with artists discussing how America's most populous state shaped their lives. Past videos featured celebrities such as Jack Black and Devo's Mark Mothersbaugh.
The legendary bassist — who moved to California as a young girl — extols the art classes, jasmine blossoms and musical opportunities in LA as critical to formation as an adult.
The visual style is similar to the line drawings of Ed Emberly. Motion is shown in a rotoscope fashion, revolving around a young Gordon as she listens to records in her LA home.
The latest installment from Google's web series debuted weeks after Gordon's autobiography Girl in a Band hit shelves. A new installation in the series by BBH LA wil debut in May.
Campaign credits
Client: Google Play
Agency: BBH, Los Angeles
Global Director of Marketing: Brian Irving
Head of N. America Marketing: Zena Arnold
Product Marketing Manager: Robin Gonterman and Gareth Hornberger
Director: Freddy Arenas
Animation: Freddy Arenas, Scott Balles, Nicolo Bianchino, Olivia Blanc, and Kyle Strope
Music: Shannon Ferguson
Sound Production: Mooj Zadie
Sound Recording: Rachel James
Executive Creative Director: Pelle Sjoenell
Creative Director: Josh Webman
Creative Director: Peter Albores
Design Director: Florencio Zavala
Associate Creative Director / Art Director: Kristian Grove Moller
Business Director: Derek McCarty
Account Lead: Raquel Castro
Production Company: California Sunday
Publisher, President: Chas Edwards
Producer, "California Inspires Me": Derek Fagerstrom
Project Manager: Whitney Lynn
Account Executive: Noelle Kaplan
Front End Developer: Lyndel Thomas