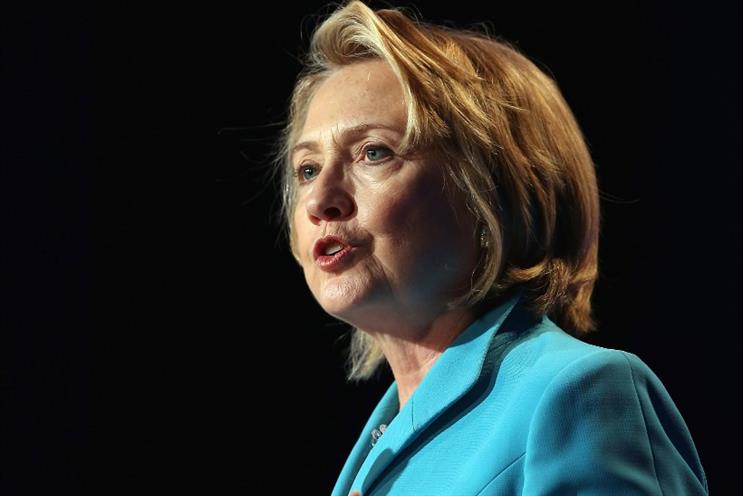 Despite months of circumventing the question, Democratic Clinton has been quietly building a formidable campaign machine behind the scenes, with a team that consists of sharp politicos and, perhaps surprisingly, consumer marketers.
Bringing Coca-Cola's sparkle
The latter group has reportedly included Coca-Cola's Wendy Clark since January.
Clark is president for sparkling brands and strategic marketing in North America at Coca-Cola, but took unpaid leave in January to pursue a "passion project".
She will return to Coke on 6 April, and it was widely reported that she left to help Clinton build her campaign. Clark is experienced in appealing to a young, diverse audience, according to the Washington Post.
It might be hard to see what Clinton has in common with the best-selling soft drink, and her spokesman has refused to comment on the nature of Clark's work.
At Cannes Lions last year, Clark commented on the changing nature of consumer activity on social media. She described a social continuum stemming from social networks launching in the early 2000s, which has now led to consumers expecting real-time content.
She outlined the importance of listening to customers, noting that Coca-Cola on Twitter gets more than 33 tweets a minute, and "that's just in English".
It's possibly this kind of insight which means Clinton announced her candidacy on Twitter.
Clark's own Twitter feed demonstrates a clear interest in issues rather than the Washington D.C. political machine itself, though it is idealistic to the point of naivety.
QOTD: I don't fear failure. I fear succeeding at something that doesn't matter.

— wendy clark (@wnd) February 4, 2015
Clark tweets about gender, sexual, and racial equality rather than poll data or punditry.
The 80 richest people in the world own wealth equivalent to the 3.5B poorest people in the world. - @Oxfam #juststaggering

— wendy clark (@wnd) March 12, 2015
Feminism and female leadership are also high on Clark's agenda, with retweets from Clinton herself and comments that there is "so much more" to do to achieve equality.
This Int'l Women's Day be thankful to those who've pushed for progress yet restless to do so much more. http://t.co/8nmBAls5MQ #NotThere

— wendy clark (@wnd) March 8, 2015
Clinton in her own Twitter bio describes herself as a "Wife, mom, lawyer, women & kids advocate" as well as listing her political achievements. She also describes herself as a "pantsuit aficionado". She discusses feminist issues on a regular basis, recently slamming China for detaining female activists.
Hillary's CTO
There is a growing fashion in politics for chief technology officers, with Clinton reportedly hiring an ex-Google exec to oversee her digital operations.
Stephanie Hannon was formerly Google's director of product management for civic innovation and social impact and, according to the Washington Post, will oversee Clinton's campaign site, apps and other digital tools.
Hannon would be the first woman to hold the CTO title on a presidential campaign, according to the newspaper.
At Google, Hannon was responsible for building tools to boost communication between communities, government and non-profit organisations.
Her focus areas at Google are a good match with Clinton's. Hannon has used big data to help cities make evidence-based decisions, tying in with Clinton's complaints that US Congress lives in an "evidence-free zone". She has also worked on the issue of making election ballot results transparent.
Michelle Obama's image-maker
Other new hires include 35-year-old political strategist Robby Mook and Michelle Obama's former aide, Kristina Schake.
Schake is a prominent marriage equality campaigner and is credited with fashioning the first lady's likeable, accessible public image. Schake is thought to have engineered Michelle Obama's shopping trip to discount retailer Target in 2011, intended to cast her as an everyday mother looking to make savings.
She was also responsible for the first lady's decision to appear on The Tonight Show with Jimmy Fallon to show off her "mom dancing" skills.
Schake will have to work with entirely different material with Clinton, who is 16 years older than Michelle Obama and under continual scrutiny for her current privilege and wealth. Along with unkind comments about her personality, Republican critics also point out the unhealthiness of a Clinton dynasty.
Up until now, Clinton has declined to showcase her personality for the sake of politics. She has shown her passion through speaking up on women's issues – but she has avoided the Obama strategy of openly making her own life story a justification for her policies.
Additional new hires include Tony Carrk, who will serve as research director, and Adrienne Elrod, formerly communications director at Correct the Record, will likely help Schake craft Clinton's personal story and defend her from opposition attacks.
Meanwhile Robby Mook is set to hold a leadership role in the campaign as a political strategist. Unlike the rest of the new hires, Mook is digitally invisible. According to Mother Jones, Mook has no Facebook profile and has forgotten the password for his Twitter account. He is known for engendering loyalty among his followers, likely to be an asset in the Clinton campaign, reportedly beset with in-fighting before it has even begun.