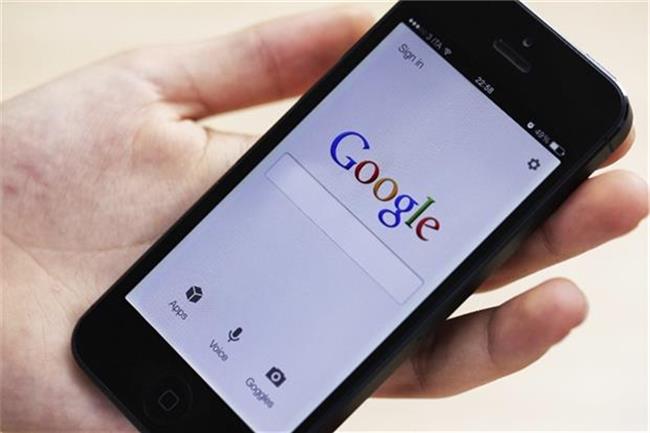 A sting by The Times found that Google had allowed a fake website to buy ad space under search terms such as "buy fake ID", "buy fake passport" and "buy fake reviews".
Buying the search terms cost up to £1 a click, the newspaper reported today.
Google said its systems work correctly "in the vast majority of cases" but admitted that they had failed this time.
Lord Harris of Haringey, chairman of National Trading Standards, said it was "wrong and irresponsible" for a platform to allow such ads.
Each of the ads' search terms were approved by the internet giant's automated systems. The Times reported that Google also suggested that the buyer purchase further search terms such as "real credit card number" and "fake visa card number" to help boost traffic to the fake website.
Keyword suggestions come from Google's "Keyword planner" tool, which pulls suggestions from signals such as keywords entered and the content of the landing page.
All the search terms that The Times' team bought went against Google's user policies, as outlined by its Ads Policy Centre.
After Google was informed, the company blocked the ads from appearing under the search terms The Times used, the newspaper added.
Google has also updated its systems so that those particular keywords will no longer be shown.
A spokesman for Google said: "While our systems work correctly in the vast majority of cases – blocking 3.2 billion bad ads last year alone – in this case they didn't, and we've taken action to address it.
"We have policies against ads that aim to deceive or enable dishonest behaviour. We know there is always more work to do and we are working to improve our processes."
Today's report is the latest in a series of investigations the News UK publication has launched about Google and its video-sharing platform YouTube.
Last year, The Times reported that Google had made millions of pounds from ads against videos that "exploit" children.
That story came months after the newspaper broke the news that the platform was running advertising against extremist content. Advertisers pulled out and some have still not returned to the platform. The issue cropped up again in June last year when it emerged that UK political party ads were running against extremist content.