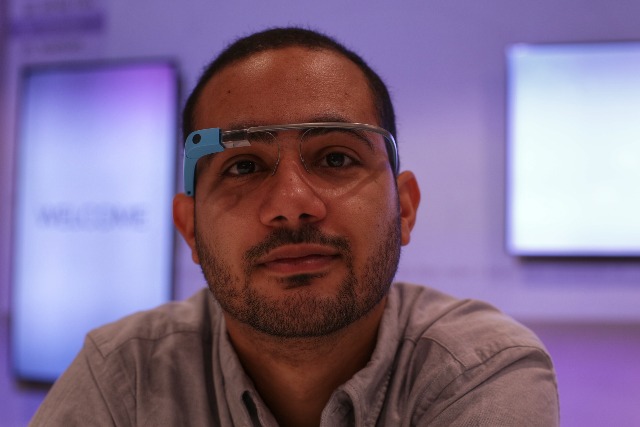 Glass was a very different device last year, full of under-used potential. Only recently have we been able to wink to take a photo or look at the screen when you get a notification to turn the device on.
Even though the hardware always had the capability, these functionalities weren't initially available to users.
Previously, eyeglass wearers like myself, had to use contacts to see with Glass. With the new hardware, I could use the prescription frames that Google sold, making my experience with Glass infinitely better.
As for software, Google has added many apps and made strides with software stability. Glass has received a steady stream of updates leading to an overall large-scale improvement.
The biggest update came in April when Glass was upgraded to the most recent version of the Android operating system, bringing with it usability changes and enhancements.
It still has a long way to go, but as long as Google keeps the momentum up, Glass will more than likely see a wider commercial release towards the end of the year or maybe more likely next year.
As for Glass making its way across the pond, due to cultural differences, it will be interesting to see if it does as well here in the UK as it has in the US.
Despite our conservative nature, many Brits are curious about new technologies, so I believe If Google handles education among consumers well, Glass has a good chance of success here.
So far, only the Explorer Edition has come to the UK. This is not the consumer launch and Google still talks about Glass as a beta product.
In my view, there are two things that will determine if Glass does well: price and app ecosystem.
At the end of the day, Glass is just a smartphone accessory and not a stand alone device so £1,000 may exceed consumers' willingness to pay while £199 would be very reasonable.
As for the app ecosystem, so far plenty of developers have been creating interesting applications and uses for Glass. Basically, the better the apps, the more users will adopt and come to rely on the device.
It is also interesting to consider how Glass can be used within a business, and not purely from the perspective of a consumer.
Imagine all of the staff at your local supermarket wearing Glass with instant access to stock levels and information that they would otherwise have to go to a terminal for.
The shopper / staff relationship is immediately enhanced. Glass has the potential to transform the customer experience in retail, and as it becomes more and more difficult for brick and mortar shops to compete on price with online retailers such as Amazon, brands will have to focus on customer experience.