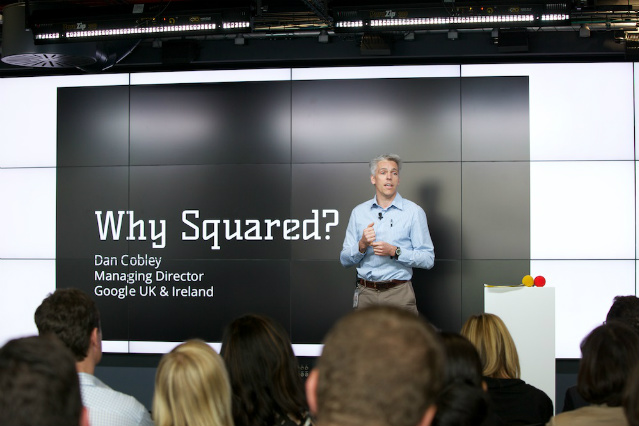 The arrival of Squared cements a Google partnership with the Institute of Practitioners in Advertising (IPA) and Impact International, and follows a successful beta trial of the digital programme last year.

The launch represents a significant investment from the internet giant, in terms of man hours, premises and financial commitment.

It offers university graduates and senior agency employees a free, six-week course, designed to boost digital, technological and leadership skills needed for the evolving market needs. Participants on the course will be trained by what Google promises will be top advertising industry practitioners.

The programme has secured dedicated premises over the next two years on London's Tottenham Court Road, and 160 graduates and 500 senior management executives from the UK advertising industry are already enrolled to take Squared classes over the next year.

Dan Cobley, UK managing director of Google, said Squared had been conceived following dialogue and popular demand from agencies, concerned about the growing digital skills divide among graduates and practitioners and the changing needs of the advertising industry.

The Squared curriculum is designed to respond to the demands within the industry, and promises to never be the same twice. All the projects, lectures and workshops are re-modelled to incorporate changes and emerging trends.

In addition, the projects on the courses given to attendees will all be real: they involve working with real brands on real briefs. Participants will succeed or fail in front of a panel representing those businesses. This is to ensure the challenges always remain fresh and relevant.

Cobley told Campaign: "I've been at Google for almost seven years, and during that time I've met with a lot of senior leaders from creative and media agencies, and the one common theme always is, 'I really can't find enough good, digitally trained young people to hire into my agency'.

"Since that's been a common theme we felt like that was something we could really contribute something significance towards."

He added: "It's not just about Google either – we had a panel in one of the pilots where we had Facebook, Twitter and Google all together talking about how social was a new force in marketing. It's very important that this is seen as a foundation in digital marketing, not just in Google marketing."
Beyond the two year lease on the London West End building, Google plans to launch an online version of the course in July, so that Squared training can be taken remotely. Unlike the free London courses, fees will apply to the online facility.

Cobley said: "The UK is a real powerhouse internationally in terms of our digital economy, but it is something that's only going to be maintained if we keep that skills flow moving and if we can make that a nationwide phenomenon rather than just a London-centric thing. That's going to be good for everyone."

Comment on Google's Squared here.

Follow @DurraniMix