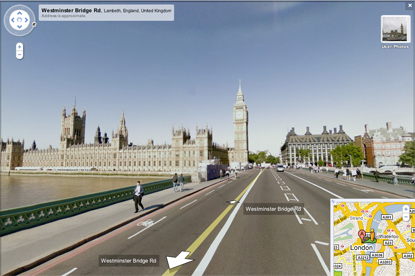 The Street View system takes pictures of streets and inserts them onto Google Maps to allow users to view locations online. For example, people can view restaurants and hotels they want to visit before arrival.

Google said UK businesses would benefit from the technology by embedding Google Maps directly onto their site for free to promote their outlet.

The launch was opposed by privacy and civil liberties campaigners in the UK, but the Information Commissioner's Office (ICO) gave the system the green light in July last year.

Google said that Street View only holds images that are already visible from public roads and has technology that blurs faces and licence plates.

Users also have the option of flagging images for removal that they feel are inappropriate, by clicking on a bar entitled 'Report a concern' on the site.
Visit Britain, FancyaPint.com, The London Mayor and Tate have partnered with Google in the system and selected a gallery of Street View images that showcase UK tourist attractions.

Street View first launched in the US in May 2007.