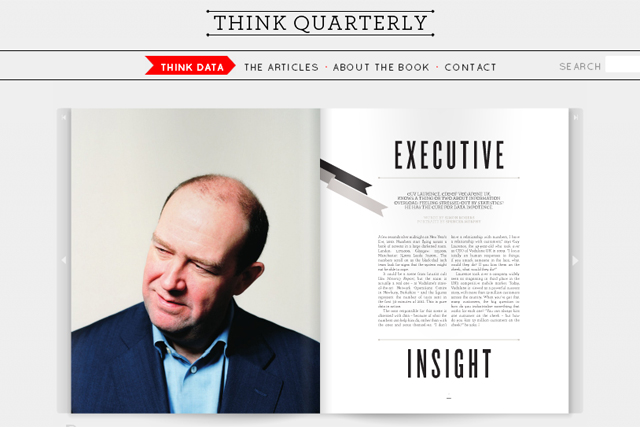 Think Quarterly, which Google describes on its website as a book for its partners and advertisers, had a soft launch through Twitter. The digital version went live earlier this week.
A 68-page print version of the publication has been circulated among 1,500 of Google's business partners.
Keen to deflect from the understandable perception that the search giant is treading on the toes of media owners, a spokesman for Google stressed the title was "B2B and not a consumer publication", though the title is available to everyone online.
He said: "Lots of companies send newsletters and publications to their clients."
In a statement, in which the publication was downgraded from "book" to "booklet", Google said: "There are only a limited number of copies of the booklets, and they aren't for sale or designed for anyone other than our partners."
Matt Brittin, managing director of UK & Ireland Operations, Google, said: "Think Quarterly is a breathing space in a busy world.
"It's a place to take time out and consider what's happening and why it matters."
The first issue, called Think Data, is live and dedicated to showing how companies can best harness data to deliver optimum results.
It includes contributions from Guy Laurence, chief executive of Vodafone UK, who talks about "information overload", as well as Tony Fagan, director of research at Google, who "answers the six quant questions every CMO should be asking in order to maximise their return on search advertising."
In reference to the first issue Brittin, said: "Amongst a morass of information, how can you find the magic metrics that will help transform your business?".
The next issues of Think Quarterly will be published in May, July and October, and are each expected to have a different theme.
At the time of writing, @ThinkQuarterly had 1,233 Twitter followers.