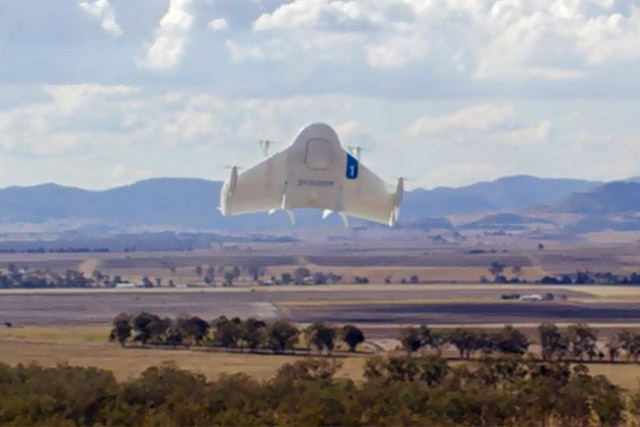 Project Wing has emerged from Google X, the search company's secretive R&D arm, and follows a similar drone scheme from Amazon.
Google said it had been working on the drones project for around two years, and that it foresaw multiple uses such as improving deliveries and even disaster relief.
Google has been testing the drones in Australia, but is now looking for partners to help turn the technology into a product. Its list of potential partners include commercial and retail brands, aviation, educational institutions, non-profits and government organisations.
Astro Teller, Google X boss, said: "Throughout history there have been a series of innovations that have each taken a huge chunk out of the friction of moving things around.
"Project Wing aspires to take another big chunk of the remaining friction of moving things around in the world."
Nicholas Roy, the founder of Project Wing, said it was "years from a product" but is the first prototype Google wanted to support.
Dave Vos, Project Wing lead, said: "The next phase is to take the momentum and enthusiasm we've achieved internally and drive it to enabling the dream of delivering stuff more quickly with proper and due safety."
As Roy acknowledged, it will be a long time before Google can make its dream a commercial reality. Amazon's rival drone project is unlikely to see much progress before 2018, namely due to strict regulations around the commercial use of drones in the US.
Amazon last month said it had written to the US Federal Aviation Administration for permission to test its Prime Air goods delivery service.