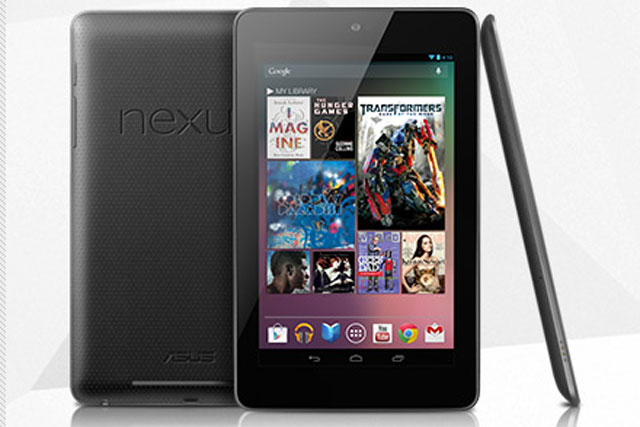 Google revealed its first tablet in front of an audience at a developer conference in California.
The tablet will go up against the likes of Amazon's Kindle and Apple's dominant iPad.
In the same way that Google creates a "beacon" phone in collaboration with a manufacturer to showcase its Android operating system, this tablet has been designed for the latest version of its Android operating system, called Jellybean, and has been manufactured by Asus.
The 8GB version of the tablet will go on sale in July priced at £159, and at £199 for the 16GB, which will see it go for the lower end of the market, occupied by Amazon's Kindle Fire.
It is available to pre-order from Google Play, its Android app store, today (28 June).
The Nexus 7 is smaller than an iPad, with a seven-inch screen, more akin to the Kindle Fire. It is also lighter than the iPad, weighing 340g.
It features a quad-core central processing unit and a 12-core graphics processing unit, which Google says will make it "really fast".
According to Google, the device has been optimised for content in one place, with a high-resolution screen. It also has a front camera.
Google has pipped Microsoft to the post with the launch of its debut tablet.
Just last week, Microsoft unveiled its new group of tablets called the Surface, but it has not released pricing details or a launch date.
It also emerged last week that Amazon was gearing up for a UK launch of its Fire tablet, after it announced it was rolling out its app store n Europe.
But it has not signalled when the Fire, which has been on sale in the US for more than a year, will reach the UK.
When Amazon launched the Fire, it sparked a media frenzy and was dubbed a potential "iPad killer".
The cut-price tablet was intended for the lower end of the market, unlike other manufacturers, such as BlackBerry and Hewlett Packard, which tried to match Apple on price and were unable to wrestle market share from it.
Google also revealed its internet-connected augmented reality glasses, which will go on sale next year.
Follow Sarah Shearman on Twitter @Shearmans