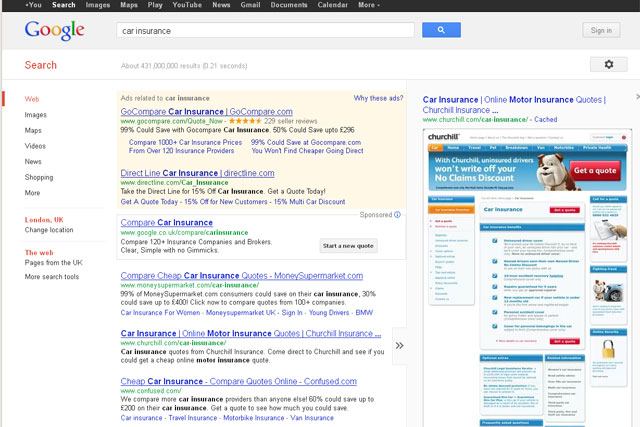 When users search for car insurance, they will now see a "sponsored" box sitting below the paid search ad placements, through which they can compare prices.
Google claims the comparison site offers consumers unique benefits and is built on the principles of transparency, honesty, privacy, responsibility and flexibility.
For example, it presents users with monthly and annual fees, rather than just monthly, which often works out more expensive per annum. It also asks for consumers' permission to opt them into marketing messages.
The tool covers the 120 insurers in its panel, which is about 30% to 40% of the market. Google makes its money by cost per leads and does not serve ads on the tool.
The move brings Google into closer competition with intermediaries such as Comparethemarket.com, GoCompare.com and MoneySupermarket.com, which spend millions on advertising their brands.
Google already offers a price comparison tool for credit cards and current accounts. It plans to expand this to other financial products, but has given no timeline for launch.

Allowing users to search based on price preference rather than what appears highest up in natural search is a change for Google. However, the company insists its core principle of serving people the best possible results remains the same.

Google is integrating BeatthatQuote, which is acquired for £37.7m, as it gradually winds the site down. BeatthatQuote founder John Paleomylites is now product director at Google.
Follow @shearmans