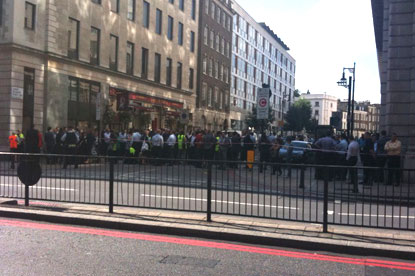 Four fire engines and 20 firefighters were called to the blaze on the fifth floor of Belgrave House, 76 Buckingham Palace Road, and brought the flames under control.

Around 5,000 staff from Google, as well as from Amex and oil firm Vitol – which also share the building – were moved away from the area.



The surrounding roads were cleared by the police and the fire brigade, before staff were let back into the building.

A Google spokeswoman confirmed that the blaze had started on the rooftop during a staff barbecue, and that no staff had been injured.

She said: "We regularly have these sorts of events for staff, although I think this might be the last barbecue we have this summer."

A spokesman for London Fire Brigade said that it was called at 13.53 and that the fire was under control by 15.13.

It said that part of timber-decked patio on the fifth floor was damaged by the blaze.




Buckingham Palace Road...evacuated