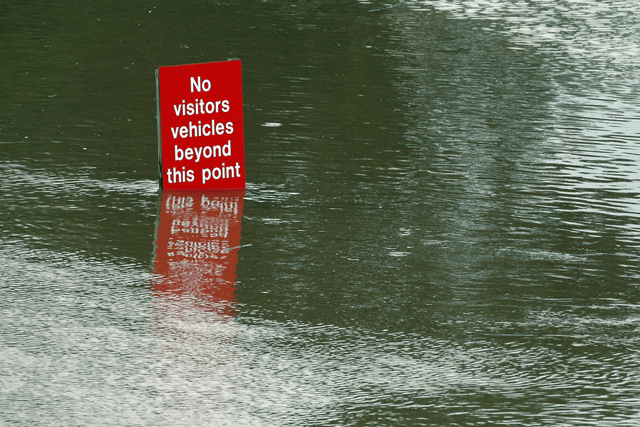 Prime minister David Cameron , who recently promised that money is no object to help victims of flooding, but whose government, according to a Guardian story, has been cutting flood defence spending by almost £100m a year, thanked those companies that are helping flooding victims.
Retailers have been particularly active in their support for the victims of flooding, with a list that inculdes Asda, Marks & Spencer, Morrisons, Tesco, Waitrose and John Lewis.
The Asda Foundation has set up a £400,000 flood relief fund to help residents, farmers, and business and community organisations affected by bad weather.
Sainsbury's is providing emergency funds to stores in areas hit by severe weather, so that they can offer products such as batteries, clothing, food and bottled water to communities.
Waitrose has been donating food parcels, while its staff have been allowed to help clean-up operations during their working hours.
M&S is providing about £150,000 of support, used to fund relief workers and help its farmers affected by flooding.
Electrical retailer Currys is donating items including kettles, toasters and fridges to relief centres, while B&Q has made 1,500 sandbags available in its Reading store and has delivered 100 tonnes of sand to the Thames Valley.
Companies in the utilities sector have made contributions. NPower has said it will waive standing charges for homes left without power or gas, while BT, TalkTalk, EE, Vodafone and O2 have deployed additional engineers to maintain services.
Elsewhere, accommodation marketplace Airbnb has said it will waive fees on rooms offered to flood victims.
Hacking the flood
Meanwhile, this weekend saw technology experts come together at Google Campus in London's Tech City UK for a hackathon aimed at devising ways in which technology can be used to alleviate the symptoms of flooding. Winning projects included automated SMS help services and maps forecasting the following day's flood levels.
The hackathon was led by Tech City UK chair Joanna Shields, who earlier this year stepped down as chief executive of the body, and was attended by more than 200 technologists.
Cameron said: "The government is taking action across the board to deal with the clear-up, and we have been working with businesses to see what they can do to help those people affected.
"I welcome the support that they are offering and the role they are playing in helping to get parts of the country get back on their feet."
Large areas of the UK are still on high alert, with severe flood warnings in place in Somerset and Thames Valley. Weather forecasters are anticipating lighter rain and winds in the coming week.