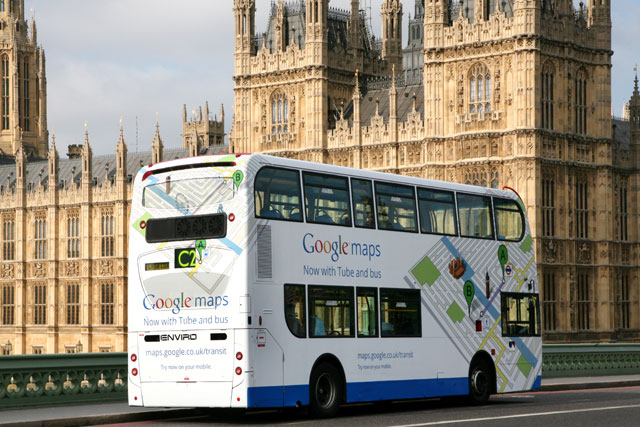 Google Transit adds public transport information to Google Maps, allowing Londoners to plan trips using Tube, bus, and DLR routes around the Greater London area from their home, office or mobile device.
If users are on a mobile device, Google Transit will automatically use the phone's current location to find the best way to get to the user's destination.
Devices using Google's Android operating system can also use its Transit Navigation service. Transit Navigation, which launched earlier this month, gives users alerts when it is time to get off a bus or train.
James Rothwell, marketing manager at Google, said: "We're excited to launch public transport route information on Google Maps in London, a city which attracts 26 million visitors per year. Using the iconic London bus was the ideal platform to create awareness across the city."
The ad campaign uses five fully wrapped buses, which will run along several well-known bus routes through central London, including the No. 19, which travels through Clapham, the West End, and Highbury and Islington.
The bus ad campaign was booked directly by Google with outdoor media owner CBS Outdoor and the creative was by Toaster.
Jason Cotterrell, country director for CBS Outdoor UK, said: "London's agenda-setting, technology savvy audience is a perfect match for this campaign. It also benefits from the scale, movement and overall impact of buses.
"It's this combination of audience and unmissable impact that has established bus ads as the best way to be seen in London and in all of the UK's urban areas."
Google Transit uses the timetable information Transport for London makes freely available through the London Datastore, and Google worked with transport and mapping specialists ITO World to make sure it could apply the data to Google Maps.