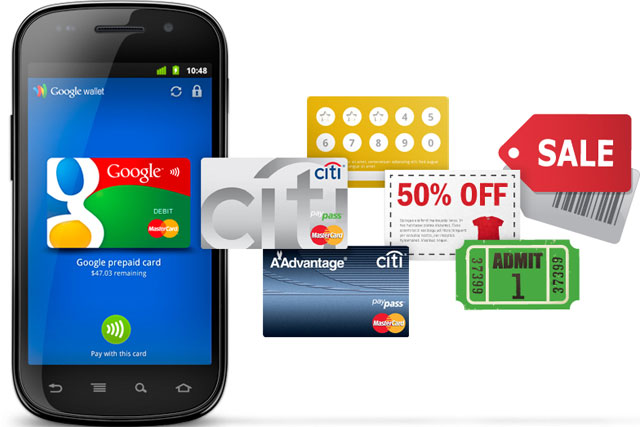 Wallet will work on Android phones featuring near-field communication (NFC) technology, allowing payment by tapping a terminal installed in retail outlets. It will rely MasterCard's network of 300,000 Paypass locations in around the world, 120,000 of which are in the US.
Citi is the only credit card provider signed up so far, but Google is hoping to add more providers over time.
Consumers will also be able to add a pre-paid Google-branded card as a debit account.
Google will also allow users to add other cards to the wallet, such as loyalty and gift cards, and is looking to eventually add tickets, ID and even keys.
The service will roll out in San Francisco and New York this summer with more cities in the US to follow over the year.
Google did not announce when the service would be rolled out to UK consumers.
Wallet was launched by Stephanie Tilenius, vice president of commerce, during an event in the Google offices in New York today (26 April).
She said commerce is ripe for "a new wave on innovation" and the Wallet and Offers services will mean "faster, easier shopping with discounts and rewards, with a single tap".
The Offers service allows users to check into location to receive discounts, register to receive a daily deal to their inbox, and also redeem deals from advertisers within search.
The deals and discounts can be stored on and paid for using Wallet. Retail partners in the US include Macy's, Subway and Noah's Bagels.
Tilenius said Offers "makes saving simple for consumers, without the bulk in your wallet".
Osama Bedier, vice-president of payments at Google, said during the conference that the company, which now has 100 Android phones on the market is in "a unique position" to bring about this shift in commerce.
"This is a real product not just an announcement. But this is just the beginning. We plan to push the limits and innovate in this space."
Tilenius said that while 70% of consumers are now comfortable shopping online, the shopping experience has not been transformed by technology yet.
"We are about to embark on a new era of commerce where we bring online and offline together. The way we pay for things will bring in that era."
She said mobile payment is poised to grow fourfold to $630bn 2013. "We believe 2011 will be the year of mobile local commerce."
Research from Springboard UK earlier this year (16 February) showed that of 2,500 consumers survey, half of them were 'uncomfortable' about making mobile payments.
Mobile payment technology has been popular in other markets including South Korea and Japan for a number of years. Among those hoping to help it take off in the UK are mobile operators O2 and Orange and credit card companies MasterCard and Barclaycard.
O2 last week announced Visa as its first partner for the rollout of its mobile wallet service in the second half of the year and earlier this month, Orange named Barclaycard as its partner.
Google Offers will rival Facebook's check-in deals, which launched in the UK at the end of January with participation from brands such as Starbucks, Mazda and Argos.
It will also bring Google into closer competition with Groupon, the online group buying company which turned down a $6bn bid from Google earlier this year.