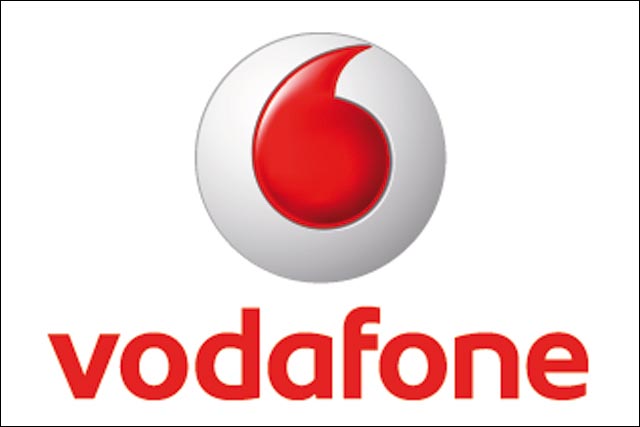 In Brand Finance's annual survey, Google has topped the global list with a brand valuation $44.3bn (£27.3bn), edging Microsoft at $42.8bn (£26.3bn) into second place.
Vodafone is the largest telecoms brand, and the fifth-biggest brand overall, with a valuation of $30.7 (£18.9bn).
Apple's brand rating has shot up from 20th to 8th place, with a brand value of $29.5bn (£18.2bn).
US brands dominate the top 20 brands, taking 13 places, while British brands take only three. HSBC is ranked 11th, with a valuation of $27.6bn (£16.99bn), and Tesco is 19th, with a valuation of $21.1bn (£12.99bn).
Coca-Cola has dropped out of the top 10 for the first time, dropping from third to 16th place, with a valuation of $25.8bn (£15.9bn).
According to Brand Finance, this was partly due to a revised methodology in measuring brand value, but also a consumer move away from highly sugared drinks.
David Haigh, chief executive of Brand Finance, said: "Vodafone's presence in the top 10 is testament to the UK's ability to grow and nurture great brands, despite a tough economic climate.
"From a global perspective, five of the top 10's largest growers are technology-related companies, reinforcing the importance of embracing technological innovation to give a seamless, value-enhancing brand experience.
"We have found that, across many leading companies, senior management are increasingly using brand valuation dashboards to monitor the health of their brands throughout the year, in order to make better informed strategic marketing decisions.
"This trend is likely to continue as the sheer size of these brand values becomes impossible to ignore."
Brand Finance Most Valuable Global Brands - 2011
Rank 2011
Rank 2010
Brand
Brand Value 2011 (US$ millions)
Brand Value 2010 (US$ millions)
1
2
Google
44,294
36,191
2
5
Microsoft
42,805
33,604
3
1
Wal-Mart
36,220
41,365
4
4
IBM
36,157
33,706
5
7
Vodafone
30,674
28,995
6
12
Bank of America
30,619
26,047
7
6
General Electric
30,504
31,909
8
20
Apple
29,543
19,829
9
15
Wells Fargo
28,944
21,916
10
11
AT&T
28,884
26,585
11
8
HSBC
27,632
28,472
12
14
Verizon
27,293
23,029
13
9
HP
26,756
27,383
14
10
Toyota
26,152
27,319
15
13
Santander
26,150
25,576
16
3
Coca-Cola
25,807
34,844
17
18
McDonalds
21,842
20,192
18
23
Samsung
21,511
18,925
19
17
Tesco
21,129
20,654
20
39
Mercedes-Benz
20,798
13,883
21
26
Mitsubishi
20,473
17,805
22
22
The Home Depot
20,423
19,013
23
29
BMW
20,157
16,616
24
31
Pepsi-Cola
19,514
15,991
25
24
China Mobile
19,317
18,673
26
40
Chase
19,150
13,400
27
28
Intel
19,078
16,642
28
43
Bradesco
18,678
13,299
29
25
Orange
18,622
18,352
30
27
Shell
18,605
16,997
31
33
Nike
18,437
15,808
32
42
Amazon
17,780
13,340
33
66
Nestle
17,455
11,178
34
45
Barclays
17,358
13,134
35
54
ICBC
17,194
12,083
36
36
Citi
17,133
14,362
37
55
China Construction Bank
17,092
12,076
38
44
UPS
17,012
13,170
39
35
Siemens
16,769
14,709
40
51
Ford
16,662
12,652
41
116
Itaú
16,655
6,911
42
37
BNP Paribas
16,643
14,060
43
46
Honda
16,355
13,083
44
62
Chevron
16,265
11,464
45
34
Target
15,989
15,224
46
50
American Express
15,529
12,737
47
19
Walt Disney
15,424
13,435
48
73
Deutsche Bank
15,169
9,862
49
30
AXA
15,099
16,403
50
65
Tata

15,085
11,216