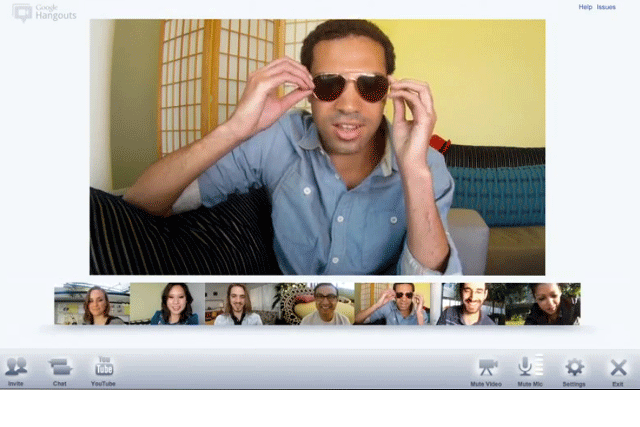 The launch of Google's long-awaited answer to Facebook, Google+, has been met with cautious optimism, as it is considered by some to be more of a 'me-too' gesture than a significant threat to the dominant social-media platform.
However, the Google+ video-chat service, Hangouts, which allows users to wait in an area on the platform for face-to-face conversations with up to 10 of their contacts at one time, is the tool that promises to take social networking to the next level.
Not that Facebook is prepared to be usurped. Last week, just days after the Google+ launch, Facebook unveiled a video-chat function, powered by internet telephony platform and Microsoft's newest acquisition, Skype.
It was no surprise that Facebook co-founder and chief executive, Mark Zuckerberg, chose to inform the world of the new service via live video stream, saying that Facebook Video Calling uses 'the best technology for video chat with the best social infrastructure'.
Skype believes it has the potential to enter the mainstream, and aims to emulate Facebook and Twitter by becoming an essential part of daily life.
Nonetheless, it is one of many players in the market that have yet to propel video chat into the mainstream. These include MSN Messenger, Apple's Facetime and Yahoo! Messenger, which allow instant video messages to be sent.
Other types of video chat include Chat Roulette, which, unlike the other services, is anonymous, and therefore considered an altogether different proposition by some observers.
Video generation
While some users may feel self-conscious seeing themselves on screen, a generation is growing up comfortable with the reality of video chat.
Charlie McGee, head of digital at Carat, believes it is only the technology that has held video chat back from going mainstream until now.
'As it becomes easier to deliver video applications across the internet, and more devices have cameras embedded, video chat is the natural progression,' he says. 'It will quickly become the norm, taking over from text-based chat.'
So how do advertisers fit into the world of video chat? Alan King, head of digital activation at UM London, warns that a new service will not automatically make money from advertising.
'A lot comes down to how safe the environments are, how you can target and whether it's better for getting the same output from other vendors,' he adds.
Ian Armstrong, manager of European communications at Honda Motor Europe, believes it is inevitable that video chat will become more widely used now it is being offered by both Google and Facebook.
However, he warns that any brands looking to become involved in video chat in terms of advertising need to approach the platform with caution.
'Brands are all about trust and it would be very easy to destroy something that has been built up over many years as a result of inappropriate messaging or out-of-context approaches,' adds Armstrong.
Consumer engagement
However, Kevin Peake, marketing director at Npower, is excited about the opportunities video chat offers brands to engage with consumers, beyond purely display, suggesting brand-to-consumer video calling could offer a new channel for customer relationship management.
'We are looking at using a lot more social-media videos to help customers,' he says. 'So, for example, we could use video chat to get engineers to help customers mend their boilers. It could also be used for older customers, who prefer speaking face-to-face, rather than emailing, as a support mechanism.
'Video chat is live and it's quick, so for some brands, it will be a fantastic opportunity. I can imagine Innocent, for instance, doing a really good job on it,' adds Peake.
Earlier this year, Skype added a display-advertising format to its free-calling service, with Microsoft, Samsung, HTC and Google Chrome among the first UK advertisers.
Google and Facebook will undoubtedly be planning to capitalise on video chat, offering advertisers a targeted and highly engaged audience, on a scale that is likely to rapidly grow. Brands and agencies will also be eager to unlock the potential of yet another digital channel.
Face-off - How the services compare
Google+ Hangouts
Google believes that the art of 'hanging out' with friends is often lost online, as existing videoand instant-messaging services fail to conveying the 'subtlety' of conversations. Its Hangouts video-chat tool is an attempt to change that.
- Ten people from a user's 'circle' can take part in a video chat.
- Users can wait in the Hangouts area for other users to join the conversation.
- The main video feed switches, depending on who is speaking.
- Only available through Google+, which is currently oversubscribed after a limited number of Google email account holders received invitations to trial it.
- It is free to use.
Facebook - Video Calling
Facebook says it has been working toward making conversations with friends easier over the past year. Its tie-up with Skype will allow Facebook's 750m members to chat one-to-one with friends in real-time.
- The tool is for one-to-one video chat with contacts, rather than group chat.
- It will be offered via a chat bar on the side of a user's screen, allowing them to see which of their friends are available to chat.
- The most relevant friends will be at the top of the list.
- It is available for free to members, but needs to be set up by users to access it.
- Anyone can trial it now by visiting the Facebook blog.