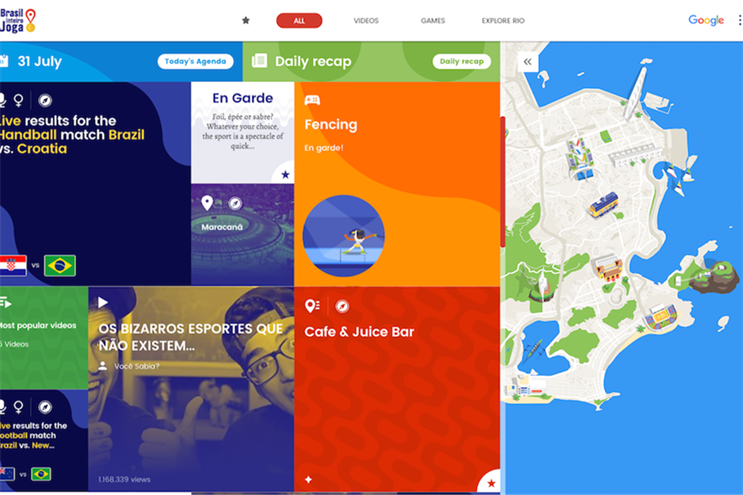 In collaboration with MediaMonks, Google Zoo has launched O Brasil Inteiro Joga / Brazil Plays. The platform has been in development over the course of the past year and provides video, gaming and geographic content to Olympics fans leading up to the games and on the ground in Rio.
This week, a "what's happening near you now" feature has been released, which will update the map in real time to show both Olympics events and parties going on around the city.
Making the experience relevant to those who are in Rio, Google will cross user location info, Olympics data, user interests, and Google Trends data, serving up ads that help users find the best stuff going on near them.
Along with this real-time map experience, daily recap video content from YouTube creators, the Castro Brothers, will give updates as to that day's Olympic news. The videos will feature custom animations from MediaMonks' Singapore-based team, so new content will be available each morning in Rio.
In a statement, Alexandre Fittipaldi, creative director of MediaMonks said the Olympics is global in nature and so the international team ensures that up-to-date content, whatever the timezone can be provided.
"The sheer number of elements and timeframe of this project has seen a huge team effort both internally and with the team at Google Zoo," he added. "The result is a seamless interface with a high level of fluidity to connect with people through content that is both useful and entertaining."
The initial phase launched in August 2015 with a weekly video series featuring top Brazilian YouTubers, touching on subjects relating to the Olympics, sports, or Rio itself, in the context of with their channel's regular programming.
Content included a beauty vlogger explaining how synchronised swimmers do their makeup, while a culinary vlogger gave tips on what to serve friends who come over to watch the Games.
In addition, over the past six months, online games have been launching weekly. The platform is now home to more than 42 summer sport games to test player's skills, plus an additional 'secret' game.
All the games are playable in banners as well as through the website, and players can customise their own character that exists across platforms. Google also launched a map featuring over 200 of Rio's top attractions, as well as locations of Olympics venues and places to practice various sports.
Felipe Morales, creative business partner, Google Zoo, said the team wanted the audience to have direct access to the content and experiences without the necessity of going to a dedicated website.
"This is the reason we opted for a huge rich-media strategy along with YouTube videos published on the creators' channels," he added.
As the Rio 2016 Games draw closer, Google Local Guides review content has been integrated to provide users with the best suggestions of what to do in Rio, while promoting the Local Guides programme in Brazil.
Digital production company MediaMonks developed the user interface and animations with teams from its São Paulo and Singapore offices as well as its HQ in the Netherlands while Google Zoo led the creative concept that underpins the platform.
Zoo is the creative team within Google that helps brands creatively use the potential of the company's platforms, technologies and resources.
A version of this story first appeared on campaignasia.com.