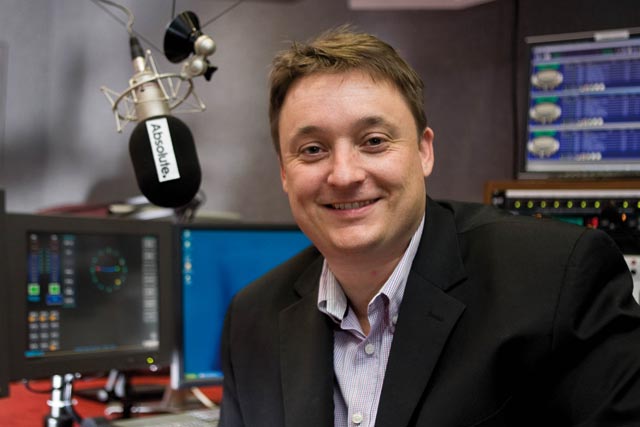 Speaking at the Albion Society's mobile briefing yesterday (8 March), Dickens said the brand was heavily focused on mobile, and was seeing impressive returns there, with Absolute's share overtaking the BBC's Radio 1 and Radio 2 for live streaming and mobile streaming.
He said: "We have adopted the most aggressive mobile radio strategy anywhere in the world. We have adapted apps across all platforms, and, in 2010, the fastest-growing app was on Nokia."
Absolute is both an iAd customer – one of the first brands in Europe to use iAd when the service launched in November – but also a publisher, serving ads through its own apps.
Dickens said the iAds experience was "spectacularly successful," and trounced the service offered by Google's Admob, which he said was "ineffective as a publisher, and this is a massive challenge for them [Google]".
He said Google's commitment to open source was a problem for the Android service, as many popular handsets were under-powered, giving users a poor experience.
However, he had nothing but praise for iAds, both as a customer and publisher. "The in-ad time is very long … and the click-through rate is vast."
Dickens was also critical of the way media companies focused on the reach of apps, but not their active use. He said some two million Absolute radio apps had been installed, but active users were the important number.
He said: "We need to stop talking active downloads and talk active users. We have 300,000 active users, almost 50% more than in January.
"Our growth in the last three months is driven by mobile. With IP and mobile, we are 40% to 50% bigger than Radio 1 and Radio 2. We are driving the community to engage with a connected device."
The most recent comparable figures suggest Radio 1 and Radio 2 were streaming around six million hours each in September, while Absolute's network streamed 7.5 million.
However, the BBC's figures seem to show numbers declining over time, while Absolute's have since shot up to 11.4 million hours in January.
Dickens said the mobile-focused strategy has included developing apps to increase brand engagement.
Apps are available for fantasy football, a smartphone Absolute clock radio, and quiz apps, which Dickens said were there to extend the brand, and bring "gamefying" to everyday life.
He said another app, which pushed scores to handsets from Premier League games during the match, tapped into the "glance" culture, where busy people habitually referred back to the smartphone for information.
"People are inside the app for average of 57 minutes per game, which is more than if they were listening on the radio. In this time, they are inside our brand," he said.
Dickens said the use of apps gave the broadcaster the opportunity to monitor exactly the numbers using their services, and this was better for the brand and those who advertised with it. He came to the conclusion that "we cannot reply on old media any more".
Dickens said: "So much of the market is sample-based. Sample-based is dead. Google knows how many people are using their services. Facebook knows, Apple knows. It is the death of data sampling."
According to the last Rajar figures, Absolute Radio's core station, available nationally on AM, DAB, online and through digital TV, as well as on FM in London, had an audience of 1.38 million a week in the fourth quarter of 2010. This represented a 7.9% drop year on year and 16.9% fall quarter on quarter.
The Absolute Radio network, which includes Absolute's digital stations such as Absolute Classic Rock and Absolute Radio 90s, had an average weekly reach of 2.22 million, up 32.88% year on year, but down 7.57% period on period.