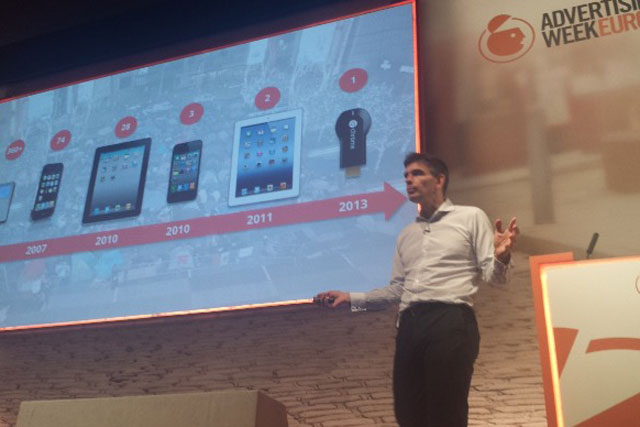 Speaking at Advertising Week Europe, Brittin commended the UK's role in being central to inventing radio, television, computing and the world-wide web and said the British needed more ambition.
Brittin said he believed the UK had not produced a Google despite its strong heritage for innovation, because a lack of "scale and ambition" and said new British businesses focussed on local success rather than launching with global ambitions.
He said: "The challenge is to break out of the [mindset of] 'the Americans are going to win here, the Chinese are coming' and take advantage of what we've got.
"I don't think it is about access to finance or skills – it is about ambition and scale and the barriers are coming down."
Brittin said economic conditions favoured the UK because the country had the largest percentage of GDP coming from the internet economy than anywhere in the world.
He cited figures that claim 8% of the UK's GDP comes from the internet economy and that this would increase to 12% by 2016, outstripping other countries.
Brittin said: "Between now and the end of the decade, the internet population will double. We are at the beginning of a new wave of disruption and we are very early in this journey.
"And the pace of change today is the slowest pace any of us will experience for the rest of our lives."
Responding to a question from Marketing, Brittin said he did not want to speculate on Google following Facebook into the virtual reality sector and said he was "more excited" about connecting the next 2.5 billion people.
He said: "What we are all about is trying to use computer science to make everyday life better and the stuff we are excited about at the moment is the mobile revolution.
"I think it is going faster than any of us could possibly have realised. When you get five billion people able to connect to each other, that is a huge opportunity for creativity.
"There is an author called Matt Ridley who has written 'The Rational Optimist' and he talks about creativity coming from ideas having sex. When you connect so many people what is going to happen then?"
Follow live coverage of Advertising Week Europe on LIVE@AdvertisingWeek