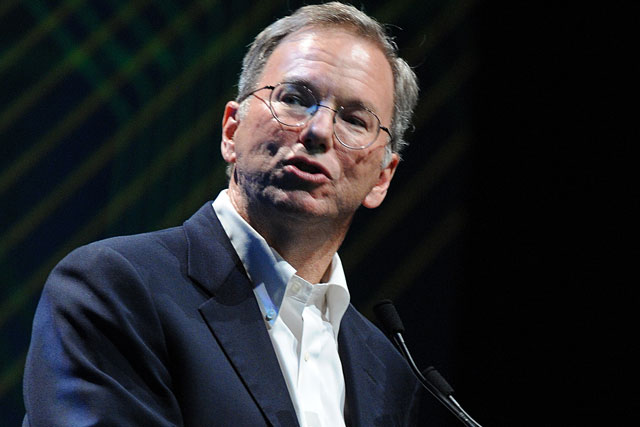 Speaking at the Cannes Lions International Festival of Creativity on 22 June, the Google leader underlined where much of the internet giant's focus now lies.

"Phone is the primary development artefact going forward," he said. "Historically people have been primarily focused on mainframes and answering machines, personal computers and then browsers. The next generation of interesting apps will all be phone based."

He added: "Obviously we have our Android platform and the iPhone platform is very good, and other folks as well. All of the really, really clever stuff is going to happen on this platform."

Describing the current climate as a "consumer-led revolution" Schmidt restated his belief in developments of near field communication.

The executive chairman went on to highlight the value of mobile payment systems when used in conjunction with the ability to record transactions in the cloud.

He envisaged a scenario when your phone can understand your brand preference when you are looking to buy a t-shirt down a street. "I want it to say on the left you can get this particular brand, 20% off. On the right you can get this other brand 30% off, it's in euros, it does the calculation for me.

"I choose based on pictures, offers on the phone, or recommendations against my past history, again with my permission."

The t-shirt is then bought by tapping the phone on a tap and go system. He concluded: "How big a market is that? "Many, many, many billions. It's probably a trillion-dollar market over time, because of the scale of retail commerce."

Schmidt believes Google is the first company to move into this space with its Andriod phone, Google wallet and settlement systems with card authorisers.

"We make money on the ads. We don't make money on the transactions, we're in the ad business.

"How valuable is an ad that makes people walk into a store and buy the product right there? This will be very big business for us and for all of you."
Last week, research from Gartner forecast the worldwide market for mobile advertising will double in 2011 to hit $3. 3 billion. The projected global mobile budget is expected to represent more than 4% of total ad spending by 2015.