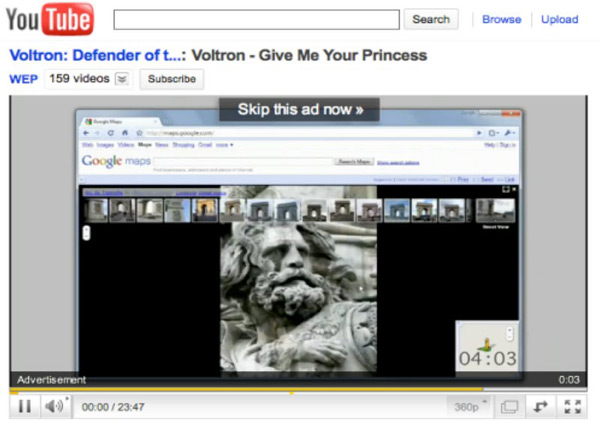 YouTube viewers can now skip video ads after 5 seconds, and an advertiser only pays when the viewer has watched the full ad or 30 seconds, whichever is shorter.
Google claim TrueView offers clear benefits to both users and advertisers, as it gives viewers choice and control over which advertiser's message they want to see and when.
The cost-per-view format launches following weeks of closed beta trials with agencies and advertisers on both sides of the Atlantic. Early results have proved encouraging with view-through rates ranging from 20-70%.
In the UK, GroupM's MEC and MediaCom are among the first agencies to trial the video ads for clients LionsGate and Electronic Arts respectively. Manning Gottlieb OMD has also trialled the format for Virgin Media ads.
The advertisers only get charged when the viewer has chosen to watch the ad, and so hopefully engaged with its message.
Talking to Media Week, Bruce Daisley, UK head of YouTube, described the formats as the "Adwords for video format".
He added: "Most agencies who have seen the format believe this is going to be a game-changer. If you sit through an ad you don't want to watch, not only do viewers fail to engage, but it can actually have a negative effect on the brand.
"With TrueView, people are only paying for what they are interested in. The killer thing about this is that everybody wins.
"Consumers choose ads that are even more relevant to them, and advertisers target their audiences more precisely. Creative agencies will also win, because for the first time we will be able to answer that perennial question about which ads work best, and go some way in measuring what makes a great ad."
Advertisers with dedicated account managers at YouTube will be able to join the open beta version of TrueView video ads from tomorrow, and it will be rolling out across other countries soon.
Daniel Brown, associate director at MediaCom, said: "We were excited by the idea of only paying for engaged views - if people aren't receptive to our ads, we don't want to pay for them. True View ads have halved our wastage in the test that we ran, and it will provide further insight to how we can engage our audiences creatively".
The launch of TrueView comes a week after video on demand service
SeeSaw launched Ad Selector in the UK
, which enables users to choose the ad they watch before streaming a programme. Unlike TrueView, the service enables users to choose between ads from the same client.