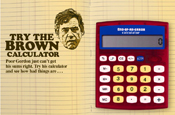 The website is part of a new campaign by the organisation, which is aimed at highlighting the state of the economy.

It accompanies a new report titled "Gordon Brown's Economic Failure", which claims that Brown's policies mean the UK is in worse economic condition than other countries.

The calculator, designed by Dexter Ginn, is accompanied by sounds of a despairing Gordon Brown.

Each answer on the calculator is a statistic from the TaxPayers' Alliance which it says highlights the state of the economy.?Visit the Brown Calculator.