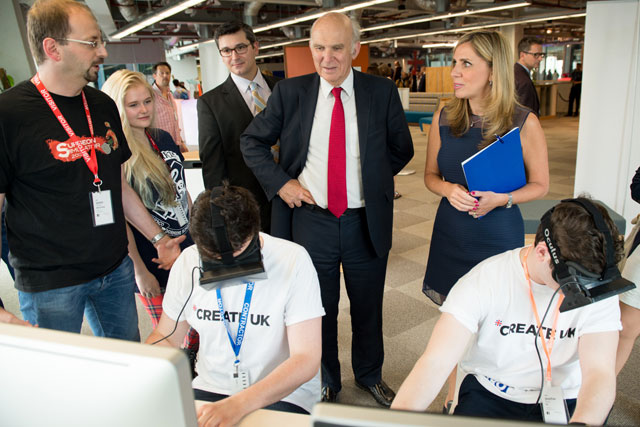 At an event hosted by Facebook last night (2 July), business secretary Vince Cable and culture secretary Savid Javid backed the new scheme and the CIC's plan to focus on five key creative areas.
The five point plan outlines as its key areas of focus:
education and skills
the creative industry's access to finance
the creation of an industry communications infrastructure
ensuring an intellectual property framework
and a focus on international business in terms of exports and inward investment.
The CIC claims that the creative industries generated more than £71bn gross value added in 2012, which it said is a 9.4% increase from the year previously and one that surpassed the growth of any other UK industry sector.
Approximately 1.71 million jobs are attributed to the creative sector, the body said, adding that the industry has also created 890,000 jobs for people in other sectors as part of a wider supply chain and "as a driver of business in other sectors".
Facebook's vice president of EMEA and co-chair of the CIC Nicola Mendelsohn said while the sector plays a significant role in the economy and how the UK is viewed on a global stage, "we are trading in an increasingly competitive marketplace and cannot take our position for granted".
"Together we need to continue this momentum to ensure we are inspiring and equipping the next generation of talent; helping creative businesses to start up and grow; and maintaining the UK's international competitiveness," she said.
Business secretary Vince Cable said that British designers, musicians and filmmakers have "put the UK on the world map with their talent".
He said: "We want this sector to continue to thrive so it's important that government and industry keep working together to foster the right environment for creative industries to succeed and inspire young people to follow in the footsteps of the many creative heavyweights that Britain has produced.
"Create UK embodies this partnership and builds on UKTI's international creative industry strategy to ensure that British businesses can stay ahead of their rivals around the world and keep supporting growth in our economy."
#CreateUK is a week-long digital event that aims to champion the success of the sector and explore its employment opportunities.
Culture secretary Sajid Javid added: "From film to video games, fashion to architecture, our world leading creative industries are a veritable powerhouse.
"They drive growth and outperform other industries, with employment increasing at around five times the rate of the national average.
"I have been continually impressed by the energy, creativity and entrepreneurial spirit in the sector – they are an integral part of what makes Britain great and the Create UK campaign will be instrumental in promoting the sector both here and abroad."