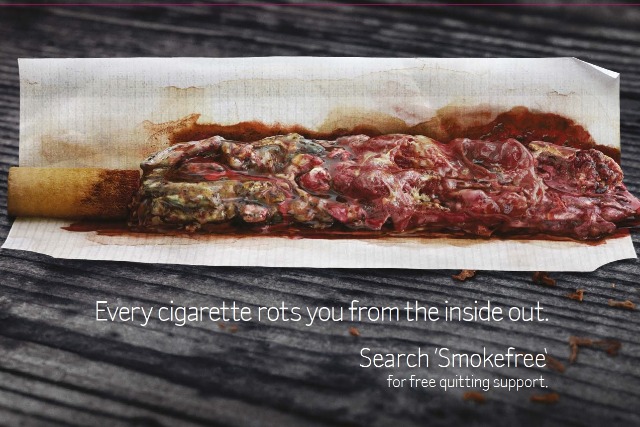 It has unveiled a hard-hitting £.4m marketing campaign, created by Dare, to highlight how smoking damages the body and causes a slow and steady decline in a process akin to rotting.
The work, running across TV, outdoor and digital from today (29 December), is about triggering "Pavlovian disgust", according to PHE marketing director Sheila Mitchell. It is a theme the Government has deployed in recent years - and some of the creative has run before - but Mitchell insisted the idea had not suffered from "wear-out".
New this year is a strand aimed at tackling the belief that roll-ups are less harmful than other cigarettes. An viral film depicts a father rolling a cigarette formed of rotting human flesh to bring to life the campaign strapline: 'Every cigarette rots you from the inside out'. Digital and print outdoor will also feature a roll-up full of decaying tissue.
According to PHE, its anti-smoking campaigns have helped smoking rates in England fall to an all-time low this year of 18.4%.
The work comes as an expert review, commissioned by PHE, highlights the multiple effects that toxic ingredients in cigarettes can have on the human body.
Earlier this month, PHE unveiled its first ever Dry January campaign aimed at encouraging social drinkers to go without alcohol for the first month of the year. Research shows that 72% of people that completed Dry January go on to moderate their levels of drinking for six months afterwards.
Read next