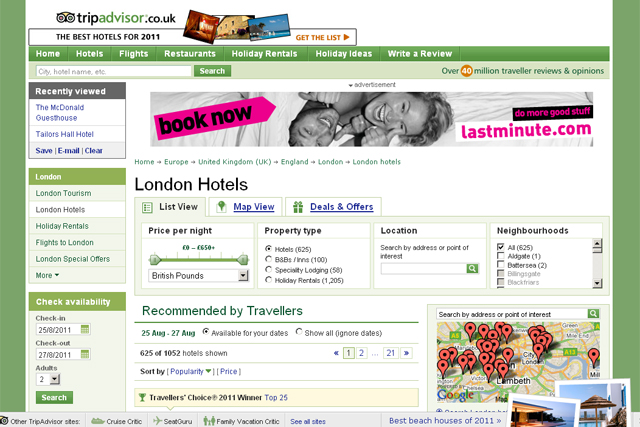 Currently, more than 24,000 accommodation brands have opted to be assessed by the Automobile Association (AA) and tourist board VisitEngland. They receive an independent star rating under the Quality Assessment Scheme.
The DCMS is expected to propose a phasing-out of the official system. It says customer websites could "improve" the quality of information available to visitors.
Consumer review site TripAdvisor is in favour of the move. It believes the current rating system can cause confusion.
Martin Verdon-Roe, director of sales for the US-based site, said: "The challenge of the star-rating system is that many travellers around the world don't understand the basis for it, as each international system uses a different methodology.
"People appreciate the advice of like-minded travellers and this is why user-generated content, in this case the reviews and opinions of hotel guests, is so highly valued."
However, Miles Quest, a spokesman for the British Hospitality Association, argues that a system based solely on consumer reviews could be abused.
He said: "The [Quality Assessment] scheme is UK-wide and needs to be constantly updated, but there are concerns in the industry that consumer-led sites are inaccurate, unfair and unverified."
International hotel brands such as Intercontinental Hotel Group (IHG) are less concerned by possibly losing their star ratings.
A spokesperson for IHG said that it relied on the strength of its brand to attract guests and already encouraged its hotels to "engage proactively" with guests who gave feedback.
She said: "It is impossible for us to classify our brands according to local star-rating systems. Any move towards a more transparent ratings system is a good thing for the industry and a good thing for our guests."
Talk of scrapping the system has raised concerns that smaller hotel brands could be adversely affected.
Jeremy Brinkworth, head of business development at VisitEngland, said there is a "proven need" for both systems.
He said: "The scheme's inspectors give professional support and advice for hotels, including marketing perspectives, which the customer doesn't see. Hotels like to have an independent badge."