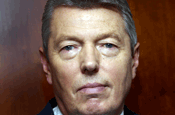 At the same time, ITV will run a series of programmes tracking viewers' efforts to switch to healthier lifestyles.

The initiatives are part of the Government's so-called Change4Life programme intended to alert parents to the risk of their children becoming overweight.

Launching the scheme, Alan Johnson, the health secretary, said: "The aim of Change4Life is to help parents understand that obesity is a problem for all of us and that it causes severe illness and premature death."

The move comes three months after it was revealed that the Advertising Association would co-ordinate a £200 million effort involving food and drink manufacturers, retailers, media owners and agencies to tackle the obesity problem.

The Change4Life programme will see Tesco and Asda offering cut-price healthy food while Kellogg supports breakfast clubs in poor areas and sponsored swimming schemes. PepsiCo will use sports stars to advertise the benefits of "active play".

Johnson said: "Ten million people visit their corner shops every day and 36 million shop at Asda and Tesco each week. The fact that grocers and supermarkets are on board means we can really influence what goes into our shopping trolleys."

The Government claims that the UK is threatened by an obesity epidemic that threatens to leave 90 per cent of young people at risk of obesity-induced illnesses that could cost the NHS £50 billion a year by 2050.