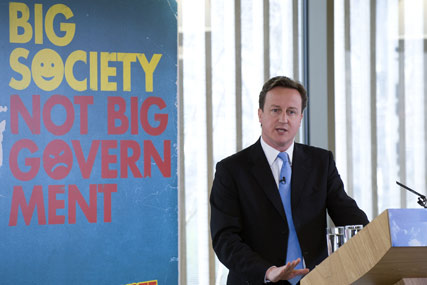 The minute of airtime would be used to run messages encouraging people to get involved with local social projects.
Although the Government would not have to pay for the airtime in the "Community Minute", as it would not run in commercial airtime, it is offering to pay for the production of the content.
Negotiations, which are believed to be at an early stage, are being led by the Department for Culture, Media and Sport, although the idea is believed to emanate from the Cabinet Office, which is leading a communications review and is pivotal in the roll-out of Cameron's Big Society.
DCMS officials are understood to have approached the three commercial public service broadcasting channels – ITV, Channel 4 and Channel 5 – which are considering their positions
The proposal is likely to attract controversy, not least from supporters of the COI, which has seen its budgets slashed in an attempt to cut the budget deficit.
The Cabinet Office is currently looking at plans to replace the COI with a US-style Ad Council, which would use the media and business to promote public-service drives for non-profit bodies and government agencies.