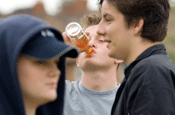 But while the Department of Health is considering statutory controls, the Department for Culture Media and Sport is not convinced.

It warns that the 9pm watershed demanded by many MPs would cost the advertising and broadcasting industries £100 million a year.

The University of Sheffield study, released on Tuesday, found evidence of a "small, but consistent" link between drinks advertising and consumption of alcohol among young people, and the population as a whole.

But more research is needed, it concluded.

While pressure groups will seize on the study, the ad industry will argue that the evidence is mixed. It hopes to persuade MPs to stick with a voluntary code after the final report comes out this autumn.

The interim study said: "There is conclusive evidence of a small, but consistent association of advertising with consumption at a population level.

"There is also evidence of small, but consistent effects of advertising on consumption of alcohol by young people."

Previous studies, mainly in the US, have found that a total advertising ban could reduce drinking by young people by 24 per cent and binge drinking among young people by 42 per cent.

However, the evidence was "inconclusive".

Health ministers also said they would bring in a mandatory labelling system unless companies put health warnings on bottles by the end of 2008.